Kate Farm Nutrition Shake Standard 1.0 Formula
Kate Farm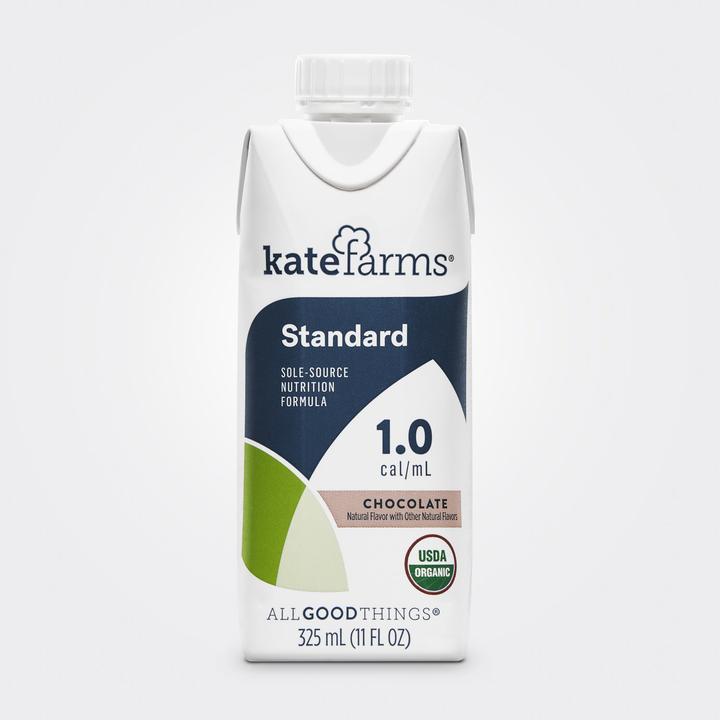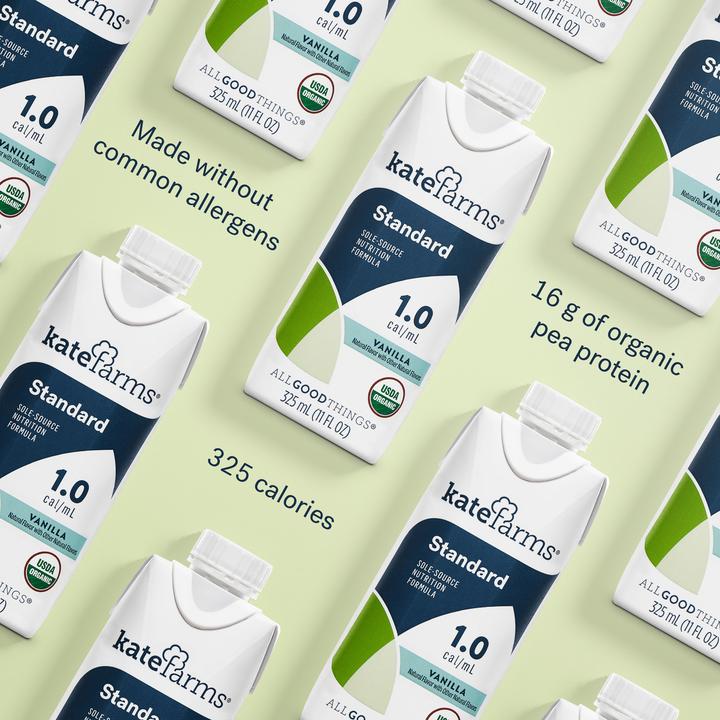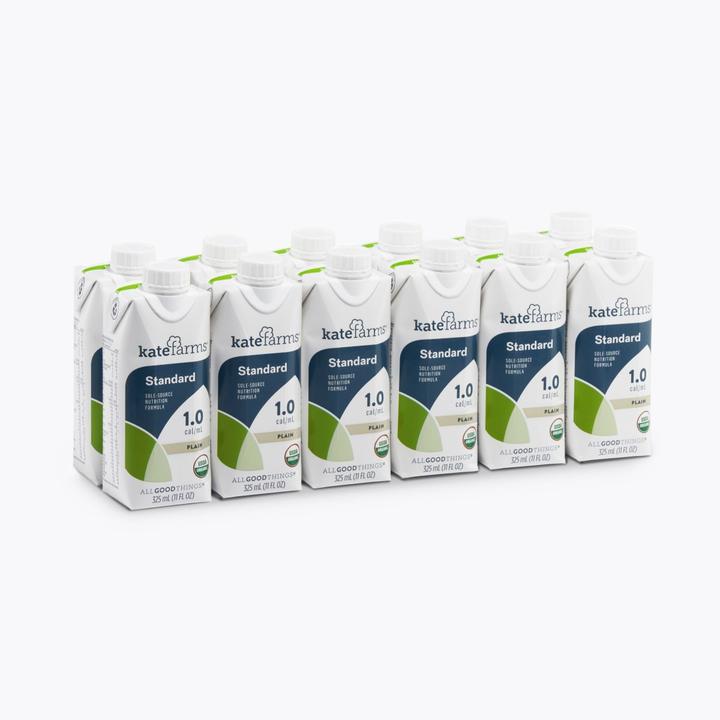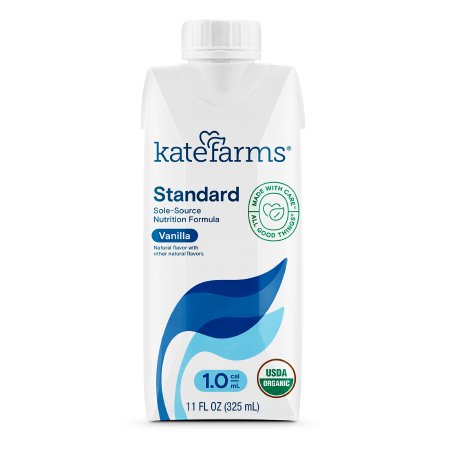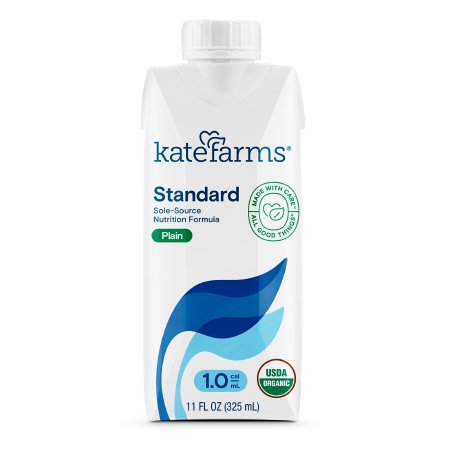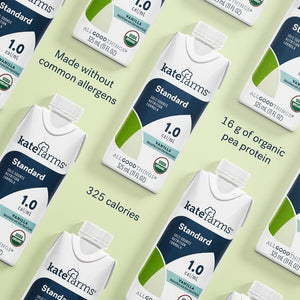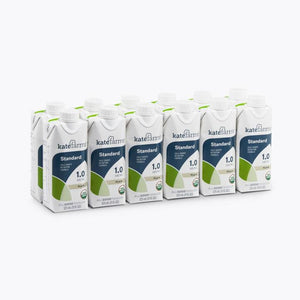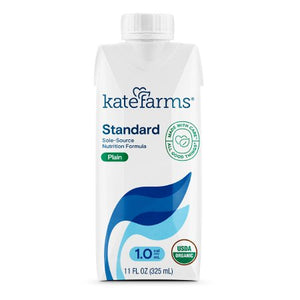 Kate Farm Nutrition Shake Standard 1.0 Formula
Kate Farm
$36.92
| | |
| --- | --- |
| Container type | Carton |
| Flavor | Chocolate |
| Packaging | 12/Case |
| Part number | KF-851823006690 |
| Volume | 11 oz |
| Container type | Carton |
| Flavor | Chocolate |
| Packaging | 1/Each |
| Part number | KF-851823006690-1 |
| Volume | 11 oz |
| Container type | Carton |
| Flavor | Vanilla |
| Packaging | 12/Case |
| Part number | KF-851823006683 |
| Volume | 11 oz |
| Container type | Carton |
| Flavor | Vanilla |
| Packaging | 1/Each |
| Part number | KF-851823006683-1 |
| Volume | 11 oz |
| Container type | Carton |
| Flavor | Plain |
| Packaging | 12/Case |
| Part number | KF-851823006676 |
| Volume | 11 oz |
| Container type | Carton |
| Flavor | Plain |
| Packaging | 1/Each |
| Part number | KF-851823006676-1 |
| Volume | 11 oz |
Kate Farm Nutrition Shake Standard 1.0 Formula
Kate Farm is A plant-based, USDA Organic formula Using the best organic ingredients designed to deliver high-quality nutrition and nourishment for a range of medical and dietary needs.

Kate Farm 1.0 promotes organic pea protein, corn-free carbohydrates, functional fats, and a phytonutrient combination with antioxidant properties. 

Kate Farm's Multitude of healthy-minded customers enjoy this delicious drink as a daily dose and source to support their nutritional, medical, and dietary needs, a health supplement that is dairy, soy, corn, gluten, or nuts Free.

Perfect as a tube feeding formula, the 1.0 flows through feeding tubes as small as 6.5 FR without needing to be watered down. 1.0 is used to transition on and off the tube .
 
No artificial sweeteners.
Kate Farms Nutrition Shakes are available in vanilla, chocolate and coffee flavor, and are made without any added artificial sweeteners.

Vegan with nutrient-dense ingredients.
Phytonutrients sourced from nutrient-dense foods like organic green tea, turmeric, broccoli, acai and more.


16 g of USDA Organic pea protein.
Kate Farms Nutrition Shakes are made with easily digested organic pea protein to help, build and maintain muscle.


Open and drink pack. No extra preparation time.
Designed for tube feeding Kate Farm Nutrition Shake Chocolate Flavor is a formula sole source Nutrition that has 1.0 CAL/ml it can flow smoothly through a feeding tubes as small as 6.5 Fr without needing to be watered down, making it the perfect formula for tube feeding.


Ingredient:


Organic Pea Protein, Organic Brown Rice Syrup Solids, Purified Water, Organic Agave Syrup, Organic High Linoleic Sunflower Oil, Organic Agave Inulin, Organic Rosemary Extract, Organic Coconut Oil, Vitamin and Mineral Blend, Organic Vanilla Flavor (Natural Flavors, Organic Vanilla Extract), Organic Flaxseed Oil, Organic Sunflower Lecithin, Organic spectra Phytonutrient Blend.

Vitamin and Mineral Blend: Tricalcium Phosphate, Choline Bitartrate, Potassium Citrate, Dimagnesium Phosphate, DL-Alpha-Tocopherol Acetate, Sodium Chloride, Potassium Chloride, Sodium Ascorbate, Sodium Molybdate, Ferric Pyrophosphate, Vitamin A Palmitate, Calcium Pantothenate, Beta Carotene, Niacinamide, Zinc Oxide, Sodium Selenite, Chromium Picolinate, Biotin, Folic Acid, Magnesium Citrate, Copper Sulfate, Manganese Sulfate, Thiamine Hydrochloride, Cyanocobalamin (Vitamin B12), Cholecalciferol, Pyridoxine Hydrochloride, Riboflavin, Phytonadione, Potassium Iodide, (Vitamin D3).
Organic Spectra Phytonutrient Blend: Extracts and Concentrates from: Organic Green Tea, Organic Turmeric, Organic Tart Cherry, Organic Blackberry. Organic Kale, Organic Broccoli, Organic Coffeeberry, Organic Broccoli Sprout, Organic Acai, Organic Blueberry, Organic Carrot, Organic Beet, Organic Cinnamon, Organic Garlic, Organic Tomato, Organic Raspberry, Organic Spinach.



Age Indication

1 year and older

Instructions

Shake vigorously and Remove cap to break seal to consume.
Oral consumption: Tastes best when it's chilled. Do not heat.
Tube feeding: Administer at room temperature. Follow healthcare provider instructions for handling techniques, flow rate, clean volume administration, and water flushes. May be used via pump, gravity or bolus as directed by healthcare provider.

Storage

Store unopened product at room temperature. Use by date printed on top of package. Once opened, replace cap, refrigerate, and use within 24 hours. NOT for intravenous use. ..
Certifications

USDA Organic, Non-GMO Project Verified, Gluten free, Kosher.