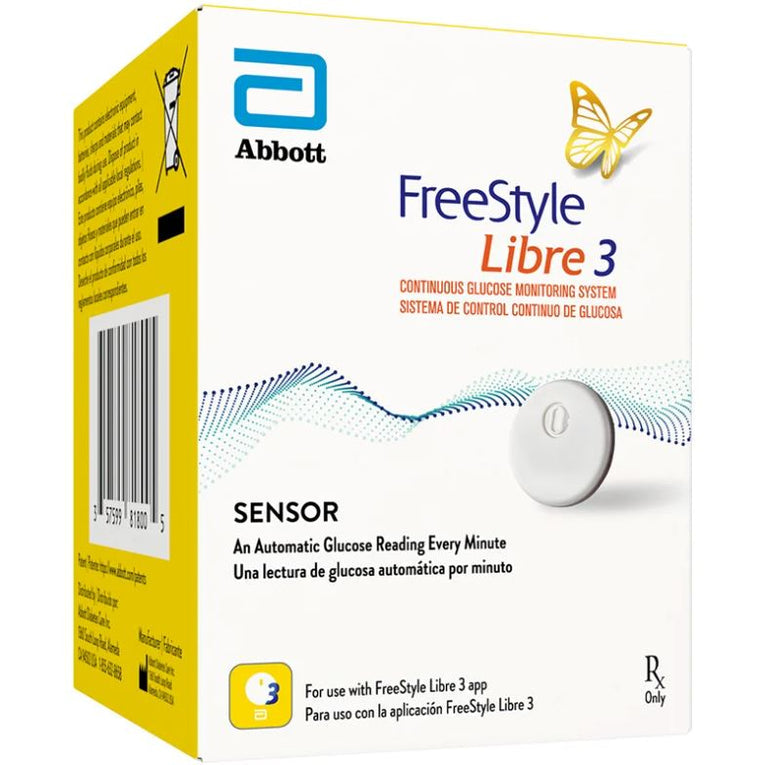 FreeStyle Libre 3 Sensor
Freestyle
$96.00
The world's smallest, thinnest, and most discreet sensor—smaller than two stacked pennies.
Painless to apply and wear with a simple 1-piece applicator.
Optional, real-time glucose alarms let you know the minute your glucose is too high or too low.
| | |
| --- | --- |
| Brand | ABBOT |
| Part number | ABT-57599-0818-00 |
| Product specification | Contains: 1 Sensor / Alcohol wipe / Product information card |
| For use with | Free Style Libre 3 App |
FreeStyle Libre 3 Sensor
The FreeStyle Libre 3 Sensor is a continuous glucose monitoring system that is FDA-cleared for adults and children with diabetes ages 4 years and above. It features the world's smallest, thinnest, and most discreet sensor, with accurate, up-to-the minute sensor readings. It also has optional real-time glucose alarms with accuracy you can trust. The sensor itself is sleek and discreet, with a narrow design that can be placed underneath your skin without requiring a period of adjustment. With this sensor, you can monitor your glucose levels in real time, receive glucose alarms, and view your glucose history and notes. With the FreeStyle Libre 3 system, you can trust that you are receiving accurate readings you can rely on.
FreeStyle Libre 3 Sensor Kit Contains:
Sensor in pre-loaded applicator
Alcohol wipe
Product information card
Reader not included