ELECARE® (FOR INFANTS) Amino acid-based powder infant formula with iron
EleCare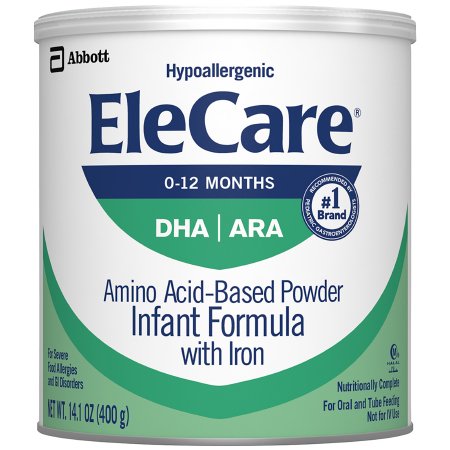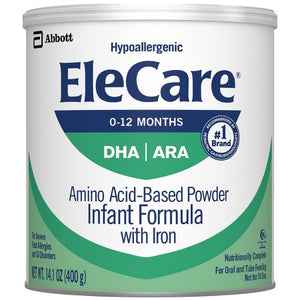 ELECARE® (FOR INFANTS) Amino acid-based powder infant formula with iron
EleCare
$279.71
33% of fat blend as MCTs","an easily digested and well-absorbed fat source
Clinically shown to support the growth of exclusively formula-fed infants
| | |
| --- | --- |
| Container type | can |
| Contains milk | No |
| Flavor | Unflavored |
| Gluten free | Yes |
| Manufacturer | Abbott Nutrition |
| Packaging | 6/Case |
| Part number | ABT-55251 |
| Container type | can |
| Contains milk | No |
| Flavor | Unflavored |
| Gluten free | Yes |
| Manufacturer | Abbott Nutrition |
| Packaging | 1/Each |
| Part number | ABT-55251-1 |
ELECARE is a 20 Cal/fl oz, nutritionally complete amino acid-based formula for infants who cannot tolerate intact or hydrolyzed protein. It is indicated for the dietary management of protein maldigestion, malabsorption, severe food allergies, short-bowel syndrome, eosinophilic GI disorders, GI-tract impairment, or other conditions in which an amino acid-based diet is required. For infants 0 to 12 months of age. For oral or tube feeding. Use under medical supervision.
PRECAUTIONS
Never use a microwave oven to warm formula. Serious burns can result.
Powdered infant formulas are not sterile and should not be fed to premature infants or infants who might have immune problems unless directed and supervised by your baby's doctor.
Not for IV use.
INGREDIENTS
(8%), Soy Oil (7%), L-Glutamine (2%). Less than 2% of: C. Cohnii Oil, M. Alpina Oil, L-Asparagine, L-Leucine, L-Lysine Acetate, DATEM, Calcium Phosphate, L-Valine, Potassium Phosphate, L-Isoleucine, L-Arginine, L-Phenylalanine, L-Tyrosine, L-Threonine, Potassium Citrate, Sodium Citrate, L-Proline, L-Serine, L-Alanine, Glycine, L-Histidine, L-Methionine, Ascorbic Acid, Magnesium Chloride, Calcium Carbonate, L-Cystine Dihydrochloride, L-Tryptophan, Salt, Choline Chloride, Inositol, Ferrous Sulfate, Taurine, Ascorbyl Palmitate, Zinc Sulfate, dl-Alpha-Tocopheryl Acetate, L-Carnitine, Niacinamide, Calcium Pantothenate, Thiamine Hydrochloride, Copper Sulfate, Manganese Sulfate, Vitamin A Palmitate, Riboflavin, Pyridoxine Hydrochloride, Folic Acid, Beta-Carotene, Biotin, Phylloquinone, Chromium Chloride, Potassium Iodide, Sodium Selenate, Sodium Molybdate, Vitamin D3, and Vitamin B12.