CaviWipes1 Surface Disinfectant Wipe 160 Count
Metrex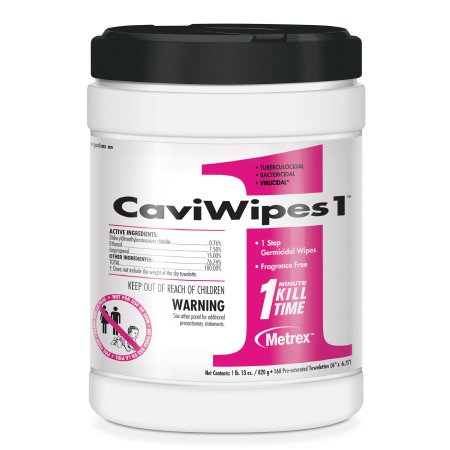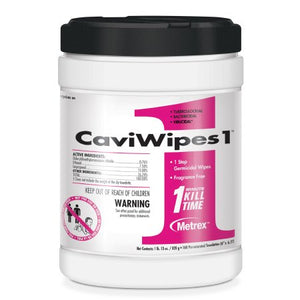 CaviWipes1 Surface Disinfectant Wipe 160 Count
Metrex
$74.99
Kills bacteria","fungi","and viruses","including covid-19 virus
Convenient and lightweight canister keeps wipes moist
Low-alcohol formula is free of fragrances and bleach
| | |
| --- | --- |
| Container type | Canister |
| Manufacturer | Metrex |
| Packaging | 12/Case |
| Scent | Alcohol Scent |
| Size dimensions | 6 X 6-3/4 Inch |
| Sterility | NonSterile |
| Type | Premoistened Alcohol Based |
| Part number | MET-13-5100 |
| Volume | 160 Count |
| Container type | Canister |
| Manufacturer | Metrex |
| Packaging | 1/CN |
| Scent | Alcohol Scent |
| Size dimensions | 6 X 6-3/4 Inch |
| Sterility | NonSterile |
| Type | Premoistened Alcohol Based |
| Part number | MET-13-5100-1 |
| Volume | 160 Count |
CaviWipes Surface Disinfectant Wipe Large 160 Count Canister is the ideal solution for non-healthcare and healthcare facilities alike. These durable non-woven cloths contain active ingredients of Isopropyl Alcohol and Ethylene Glycol Monobutyl Ether, making them effective against a wide variety of microorganisms.
They are ideal for use on critical and semi-critical surfaces, such as medical and dental operating rooms, and non-critical surfaces, such as toilet and restroom areas, and are perfect for use on non-porous and porous surfaces.
CaviWipes also offers an abrasive texture that makes them great for removing dirt and debris from hard surfaces. The large size of the canister ensures that you will have plenty of wipes for use on all of your surfaces.