Boost Very High Calories 8OZ Carton
Boost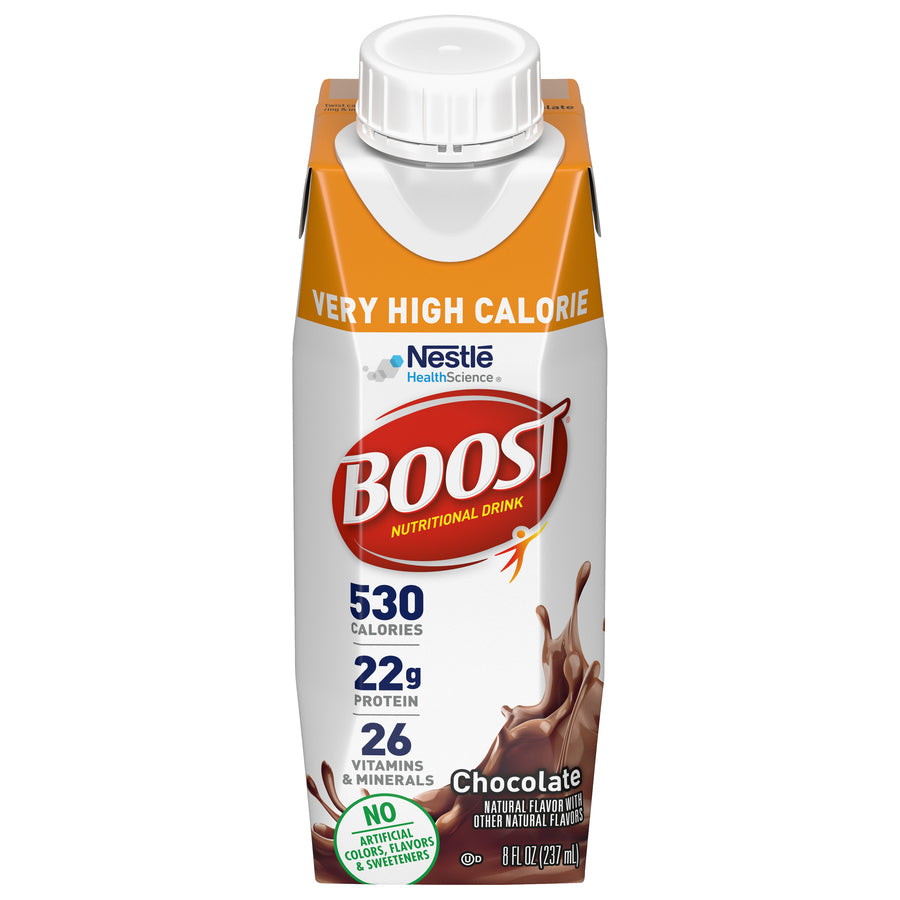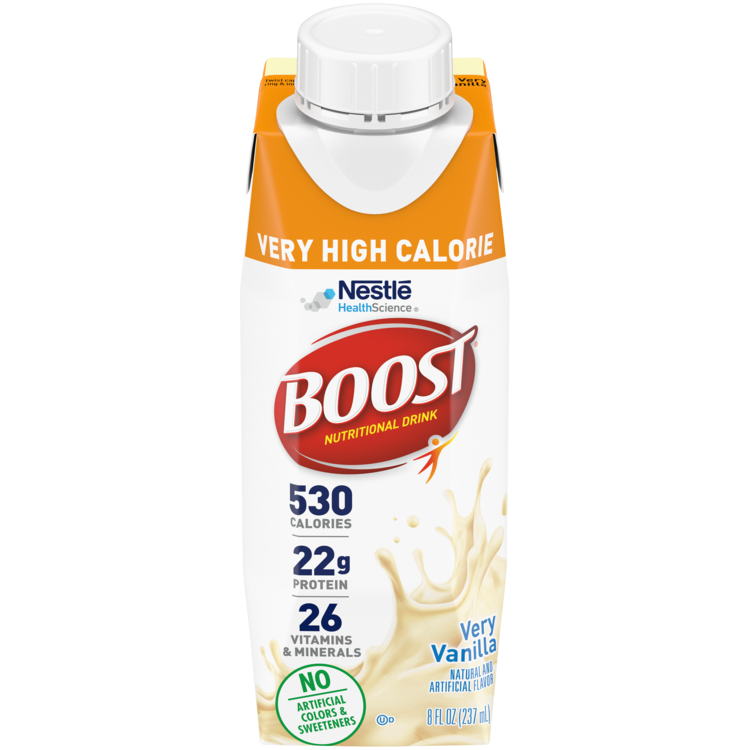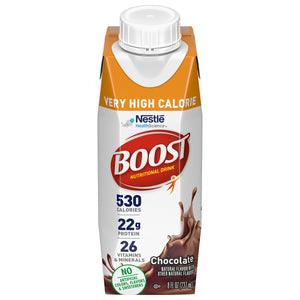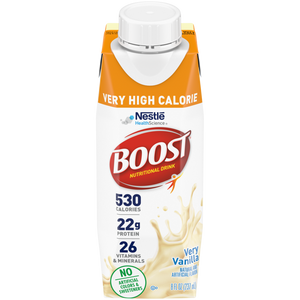 Boost Very High Calories 8OZ Carton
Boost
$63.14
530 nutrient-rich calories to help gain or maintain weight
Contains vitamins C & D","zinc","iron","and selenium","key nutrients for immune support
22 g of high-quality protein to help maintain muscle
| | |
| --- | --- |
| Application | Oral Supplement |
| Container type | Carton |
| Contains milk | yes |
| Flavor | Chocolate |
| Gluten free | yes |
| Manufacturer | Nestle Healthcare Nutrition |
| Packaging | 24/Case |
| User | Adult |
| Part number | NES-4390090658 |
| Application | Oral Supplement |
| Container type | Carton |
| Contains milk | yes |
| Flavor | Strawberry |
| Gluten free | yes |
| Manufacturer | Nestle Healthcare Nutrition |
| Packaging | 24/Case |
| User | Adult |
| Part number | NES-4390066145 |
| Application | Oral Supplement |
| Container type | Carton |
| Contains milk | yes |
| Flavor | Vanilla |
| Gluten free | yes |
| Manufacturer | Nestle Healthcare Nutrition |
| Packaging | 24/Case |
| User | Adult |
| Part number | NES-4390089434 |
| Application | Oral Supplement |
| Container type | Carton |
| Contains milk | yes |
| Flavor | Chocolate |
| Gluten free | yes |
| Manufacturer | Nestle Healthcare Nutrition |
| Packaging | 1/Each |
| User | Adult |
| Part number | NES-4390090658-1 |
| Application | Oral Supplement |
| Container type | Carton |
| Contains milk | yes |
| Flavor | Strawberry |
| Gluten free | yes |
| Manufacturer | Nestle Healthcare Nutrition |
| Packaging | 1/Each |
| User | Adult |
| Part number | NES-4390066145-1 |
| Application | Oral Supplement |
| Container type | Carton |
| Contains milk | yes |
| Flavor | Vanilla |
| Gluten free | yes |
| Manufacturer | Nestle Healthcare Nutrition |
| Packaging | 1/Each |
| User | Adult |
| Part number | NES-4390089434-1 |
Those struggling to gain or maintain their weight know all too well that a lack of energy can get in the way of a regular lifestyle, including spending time with ones you love. You deserve to take control of your needs with BOOST® Very High Calorie nutritional drink. It provides high calorie, high protein nourishment you need to help you get back to doing what you enjoy.     
Kosher
Gluten Free
Suitable for Lactose Intolerance.Not for individuals with galactosemia
INGREDIENTS: WATER, GLUCOSE SYRUP, CANOLA OIL, ACID CASEIN (FROM MILK), SOY PROTEIN ISOLATE, AND LESS THAN 2% OF SUGAR, VITAMINS AND MINERALS* , SOY LECITHIN, COCOA PROCESSED WITH ALKALI, SALT, NATURAL FLAVOR, CITRIC ACID, TAURINE, CARRAGEENAN

*VITAMINS AND MINERALS: POTASSIUM CITRATE, CALCIUM CITRATE, MAGNESIUM CHLORIDE, SODIUM ASCORBATE, SODIUM PHOSPHATE, POTASSIUM PHOSPHATE, SODIUM CITRATE, CHOLINE CHLORIDE, MAGNESIUM OXIDE, FERROUS SULFATE, DL-ALPHA TOCOPHERYL ACETATE, ZINC SULFATE, NIACINAMIDE, CALCIUM PANTOTHENATE, MANGANESE SULFATE, VITAMIN A PALMITATE, COPPER SULFATE, PYRIDOXINE HYDROCHLORIDE, THIAMINE MONONITRATE, RIBOFLAVIN, FOLIC ACID, POTASSIUM IODIDE, SODIUM SELENATE, CHROMIUM CHLORIDE, VITAMIN K1, BIOTIN, VITAMIN D3, SODIUM MOLYBDATE, VITAMIN B12
Boost Very High Calories 8OZ Carton
Great service!
It's so hard to find the strawberry flavor lately. I received my order quickly & it arrived in perfect condition. Highly recommend & will order again
Great for Chemotherapy
Protein plus calories were a great option for chemotherapy - 120 grams of protein per day was easier with this product. The taste is not any different than a regular Boost.
Boost Very High Calories 8OZ Carton