BetterDry Adult Incontinence Briefs
BetterDry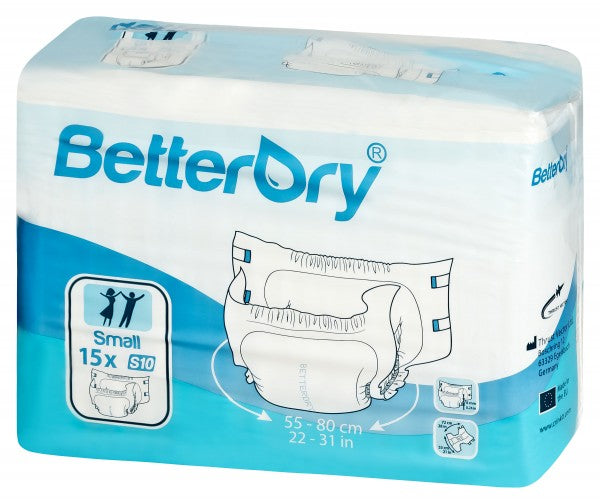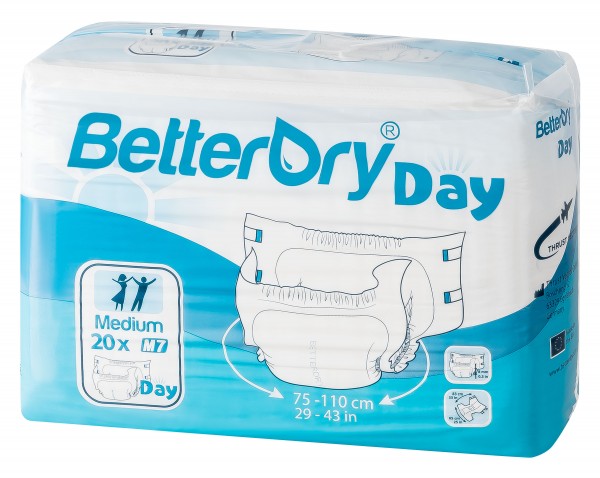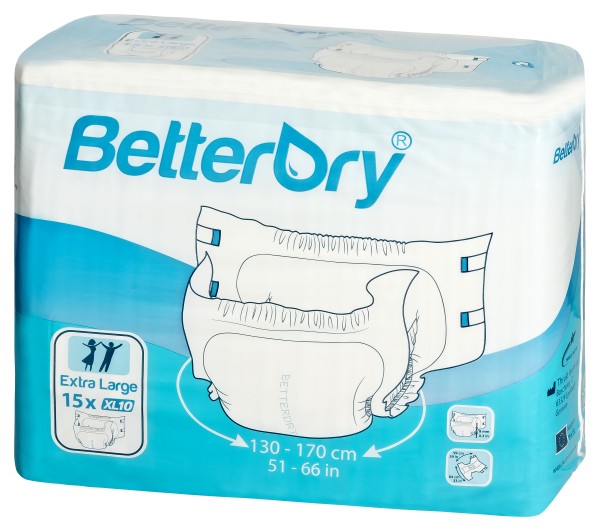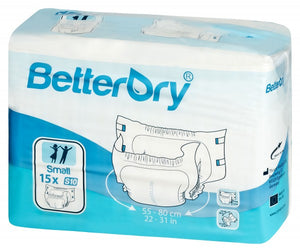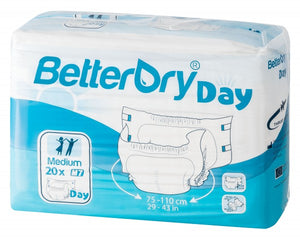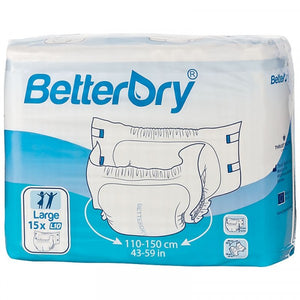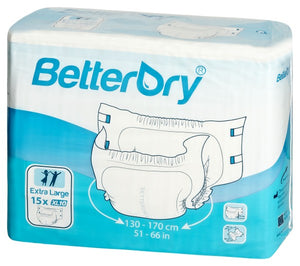 BetterDry Adult Incontinence Briefs
BetterDry
$98.99
Extra high leak barriers and Good fluid retention
Soft plastic backsheet Elasticized front and back
| | |
| --- | --- |
| Absorbency amount | 38.5 OZ |
| Absorbency level | Heavy Absorbency |
| Manufacturer | BetterDry |
| Packaging | 60/Case |
| Size | Small |
| Tape tab | Double Tape |
| Type | underwear with tabs |
| Part number | BTD-10400 |
| Waist size range | 22-31 in |
| Absorbency amount | 38.5 OZ |
| Absorbency level | Heavy Absorbency |
| Manufacturer | BetterDry |
| Packaging | 15/Bag |
| Size | Small |
| Tape tab | Double Tape |
| Type | underwear with tabs |
| Part number | BTD-10400-1 |
| Waist size range | 22-31 in |
| Absorbency amount | 38.5 OZ |
| Absorbency level | Heavy Absorbency |
| Manufacturer | BetterDry |
| Packaging | 60/Case |
| Size | Medium |
| Tape tab | Double Tape |
| Type | underwear with tabs |
| Part number | BTD-10500 |
| Waist size range | 29-43 in |
| Absorbency amount | 38.5 OZ |
| Absorbency level | Heavy Absorbency |
| Manufacturer | BetterDry |
| Packaging | 15/Bag |
| Size | Medium |
| Tape tab | Double Tape |
| Type | underwear with tabs |
| Part number | BTD-10500-1 |
| Waist size range | 29-43 in |
| Absorbency amount | 38.5 OZ |
| Absorbency level | Heavy Absorbency |
| Manufacturer | BetterDry |
| Packaging | 60/Case |
| Size | Large |
| Tape tab | Double Tape |
| Type | underwear with tabs |
| Part number | BTD-10600 |
| Waist size range | 43-59 in |
| Absorbency amount | 38.5 OZ |
| Absorbency level | Heavy Absorbency |
| Manufacturer | BetterDry |
| Packaging | 15/Bag |
| Size | Large |
| Tape tab | Double Tape |
| Type | underwear with tabs |
| Part number | BTD-10600-1 |
| Waist size range | 43-59 in |
| Absorbency amount | 38.5 OZ |
| Absorbency level | Heavy Absorbency |
| Manufacturer | BetterDry |
| Packaging | 60/Case |
| Size | X-Large |
| Tape tab | Double Tape |
| Type | underwear with tabs |
| Part number | BTD-10700 |
| Waist size range | 51-66 in |
| Absorbency amount | 38.5 OZ |
| Absorbency level | Heavy Absorbency |
| Manufacturer | BetterDry |
| Packaging | 15/Bag |
| Size | X-Large |
| Tape tab | Double Tape |
| Type | underwear with tabs |
| Part number | BTD-10700-1 |
| Waist size range | 51-66 in |
The main product features are: 
★designed for night time use
★offers maximum protection for mobile persons with lighter forms of incontinence
★discreet, white, all-around slightly elastic plastic outer cover
★big, refastenable tape tabs
★elastic waistbands in the front and in the back
★extra tall standing leg cuffs to accommodate diaper doublers
★wetness indicator
★odor protection
★latex free
★made in the EU
You won't regret trying these
These are the best overnight diapers I've found for heavy bed wetting. My wife actually insists I buy them because they've never leaked in our bed like some other brands. They're super comfortable too despite being on the bulkier side. And the best part is, they're very affordable compared to other similar quality diapers.