ELECARE® JR Amino acid-based nutrition powder
EleCare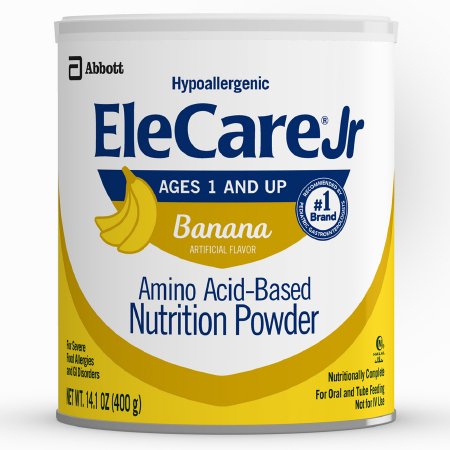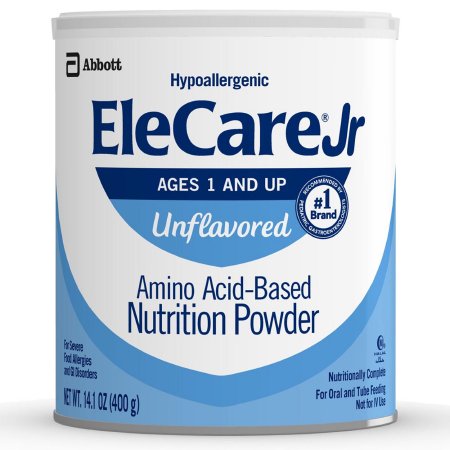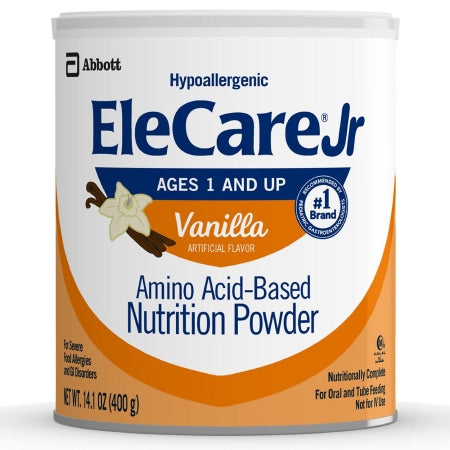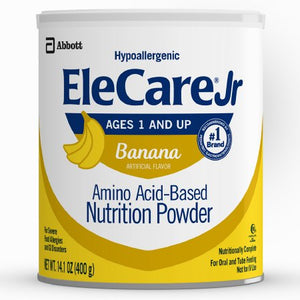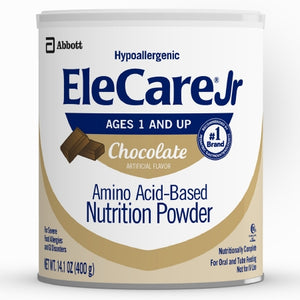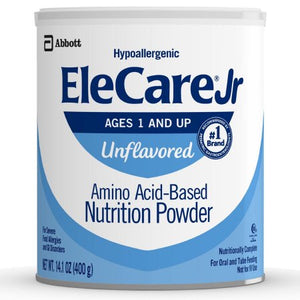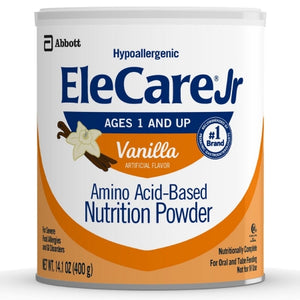 ELECARE® JR Amino acid-based nutrition powder
EleCare
$279.71
Shown to be effective in maintaining growth of children with cow's-milk protein allergy when used as the primary source of calories
100% free amino acids as nitrogen sourc
| | |
| --- | --- |
| Container type | can |
| Contains milk | Yes |
| Flavor | Banana |
| Gluten free | Yes |
| Manufacturer | Abbott Nutrition |
| Packaging | 6/Case |
| Part number | ABT-66275 |
| Container type | can |
| Contains milk | Yes |
| Flavor | Banana |
| Gluten free | Yes |
| Manufacturer | Abbott Nutrition |
| Packaging | 1/Each |
| Part number | ABT-66275-1 |
| Container type | can |
| Contains milk | Yes |
| Flavor | Chocolate |
| Gluten free | Yes |
| Manufacturer | Abbott Nutrition |
| Packaging | 6/Case |
| Part number | ABT-66273 |
| Container type | can |
| Contains milk | Yes |
| Flavor | Chocolate |
| Gluten free | Yes |
| Manufacturer | Abbott Nutrition |
| Packaging | 1/Each |
| Part number | ABT-66273-1 |
| Container type | can |
| Contains milk | Yes |
| Flavor | Unflavored |
| Gluten free | Yes |
| Manufacturer | Abbott Nutrition |
| Packaging | 6/Case |
| Part number | ABT-55253 |
| Container type | can |
| Contains milk | Yes |
| Flavor | Unflavored |
| Gluten free | Yes |
| Manufacturer | Abbott Nutrition |
| Packaging | 1/Each |
| Part number | ABT-55253-1 |
| Container type | can |
| Contains milk | Yes |
| Flavor | Vanilla |
| Gluten free | Yes |
| Manufacturer | Abbott Nutrition |
| Packaging | 6/Case |
| Part number | ABT-56585 |
| Container type | can |
| Contains milk | Yes |
| Flavor | Vanilla |
| Gluten free | Yes |
| Manufacturer | Abbott Nutrition |
| Packaging | 1/Each |
| Part number | ABT-56585-1 |
ELECARE JR is a 30 Cal/fl oz, nutritionally complete amino acid-based medical food for ages 1 and older who cannot tolerate intact or hydrolyzed protein. For the dietary management of protein maldigestion, malabsorption, severe food allergies, short-bowel syndrome, eosinophilic GI disorders, GI-tract impairment, or other conditions in which an amino acid-based diet is required. For ages 1 and up. For oral or tube feeding. Use under medical supervision.
PRECAUTIONS
Never use a microwave oven to warm formula. Serious burns can result.
Banana: Contains trace amounts of tapioca starch.
Phenylketonurics: contains phenylalanine (Vanilla, Chocolate, Banana flavors only).
Not for IV use.
INGREDIENTS
Corn Syrup Solids (54%), High Oleic Safflower Oil (9%), Medium Chain Triglycerides (8%), Soy Oil (7%), L-Glutamine (2%). Less than 2% of: L-Asparagine, L-Leucine, DATEM, L-Lysine Acetate, L-Valine, Calcium Phosphate, L-Isoleucine, Potassium Phosphate, L-Arginine, L-Phenylalanine, L-Tyrosine, Potassium Citrate, Sodium Citrate, L-Threonine, L-Proline, L-Serine, L-Alanine, Magnesium Chloride, Glycine, L-Histidine, L-Methionine, Ascorbic Acid, Calcium Carbonate, L-Cystine Dihydrochloride, L-Tryptophan, Magnesium Phosphate, Aspartame, Choline Chloride, Artificial Flavor, Acesulfame Potassium, Inositol, Ferrous Sulfate, Taurine, Ascorbyl Palmitate, Zinc Sulfate, Sucralose, dl-Alpha-Tocopheryl Acetate, L-Carnitine, Niacinamide, Salt, Calcium Pantothenate, Manganese Sulfate, Thiamine Hydrochloride, Copper Sulfate, Vitamin A Palmitate, Riboflavin, Pyridoxine Hydrochloride, Folic Acid, Beta-Carotene, Biotin, Phylloquinone, Chromium Chloride, Potassium Iodide, Sodium Selenate, Sodium Molybdate, Vitamin D3, and Vitamin B12.
Phenylketonurics: Contains phenylalanine.