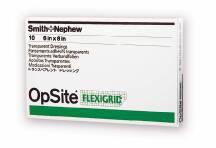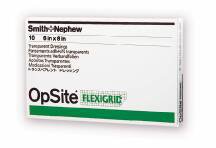 OPSITE FLEXIGRID Transparent Adhesive Film Dressing
Smith & Nephew
$0.00
| | |
| --- | --- |
| Manufacturer | Smith & Nephew |
| Material | Adhesive / Film |
| Packaging | 10/Box |
| Size dimensions | 6 X 8 Inch |
| Sterility | Sterile |
| Part number | SN-66024628-1 |
| Shape | Rectangle |
OPSITE FLEXIGRID™ Transparent Adhesive Film Dressing
Features 
· A transparent, adhesive film, with a unique wound measurement grid
· The film is moisture vapor permeable, conformable and extensible
· It is widely used to provide a moist wound healing environment for superficial wounds; it is also ideal for use as a secondary dressing
· Resistant to water and body fluids, allowing the patient to bathe without changing dressings
· Designed to be adaptable for use on all areas of the body and it can be easily cut into strips or shapes for application to awkward areas such as heels, elbows and knees
· The unique wound measurement grid can be written on with a ballpoint pen and provides a good record of the change in size of the wound.
Indications
OPSITE FLEXIGRID is indicated for superficial wounds including shallow pressure ulcers, minor burns, cuts and abrasions.
Description
OPSITE FLEXIGRID dressings are made from the patented REACTIC™ film that responds to transpire excessive moisture. With a unique wound measurement grid, OPSITE FLEXIGRID is waterproof; it may be used as a secondary dressing or for catheter fixation.