Glassless Mirror Stationary Floor Stand Vertical
MirrorLite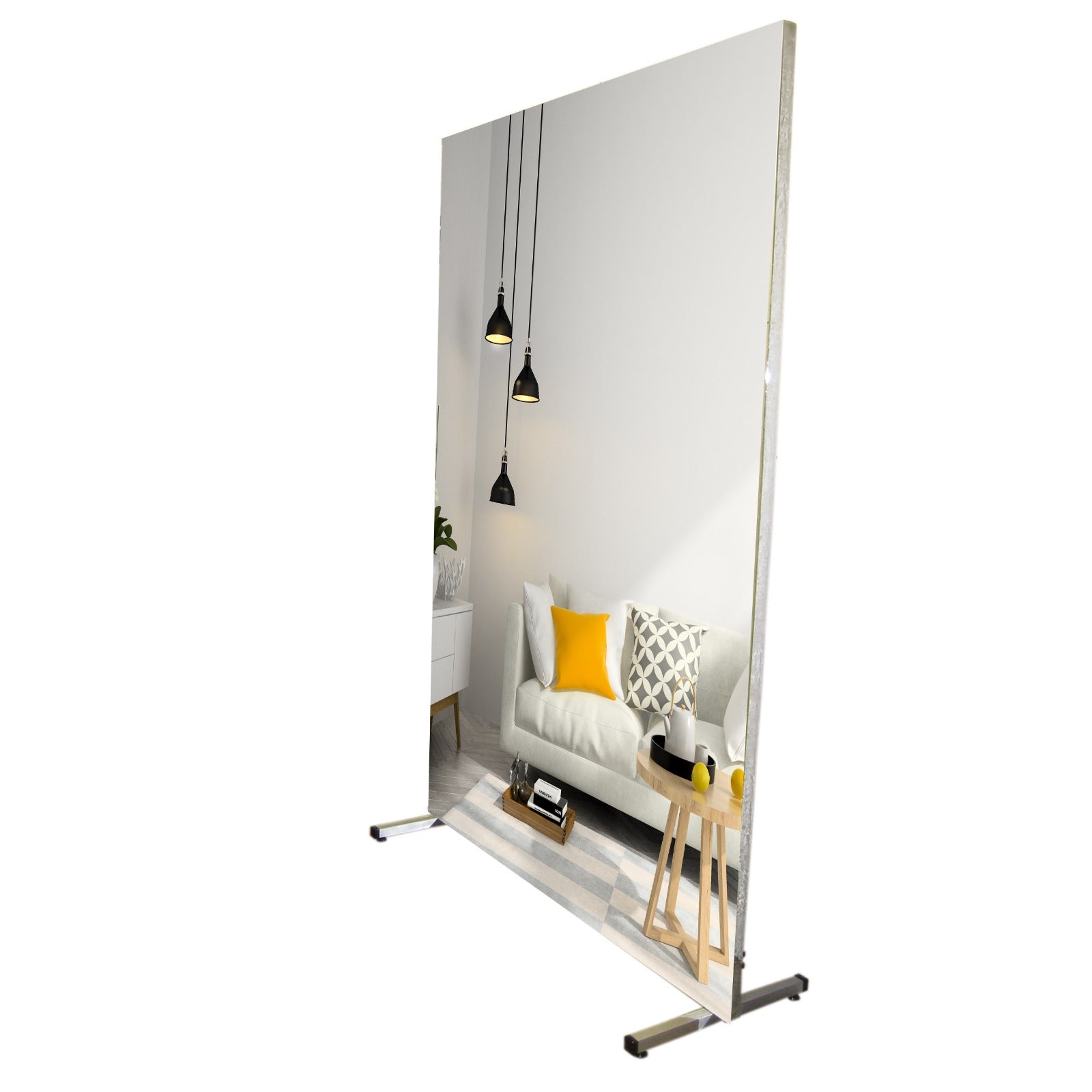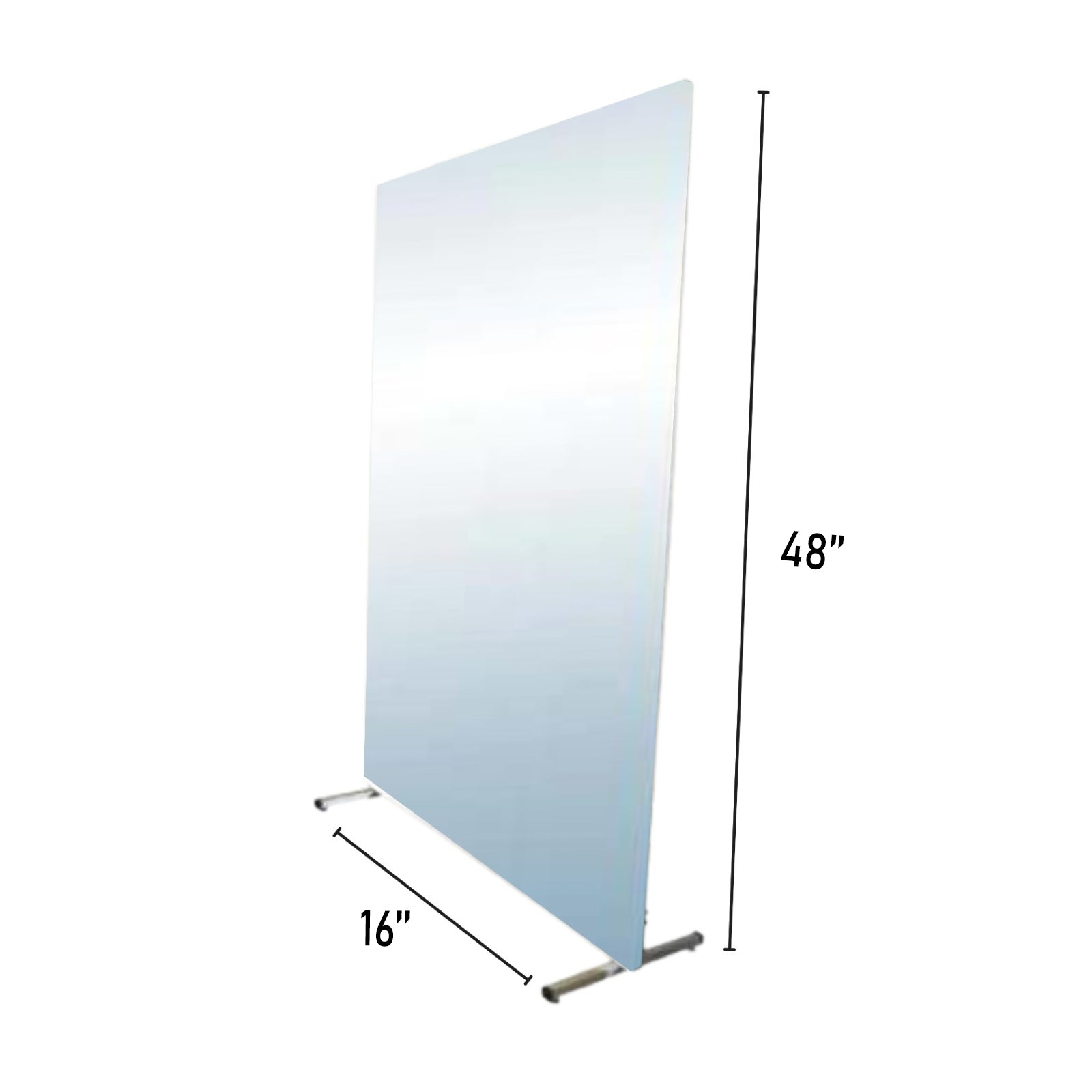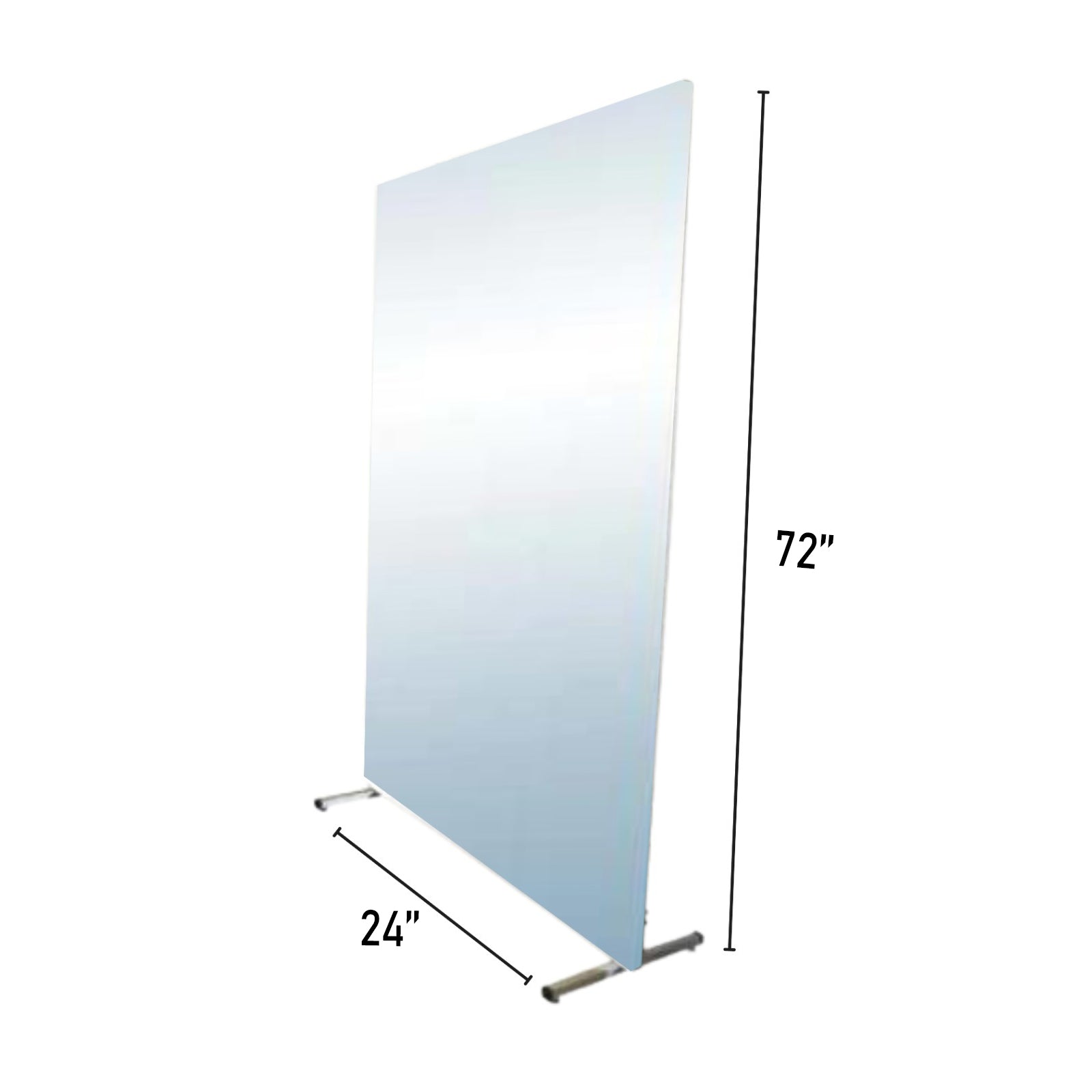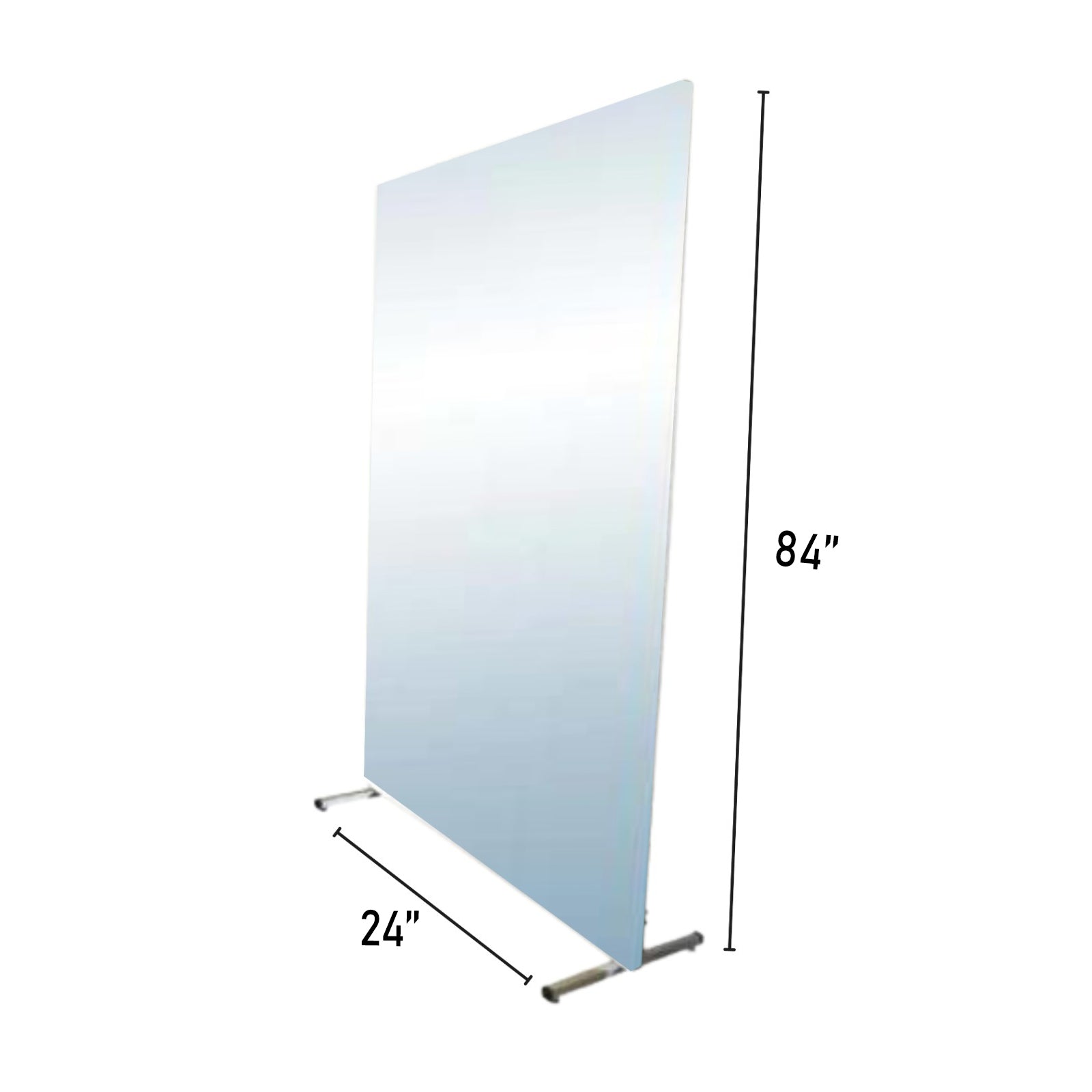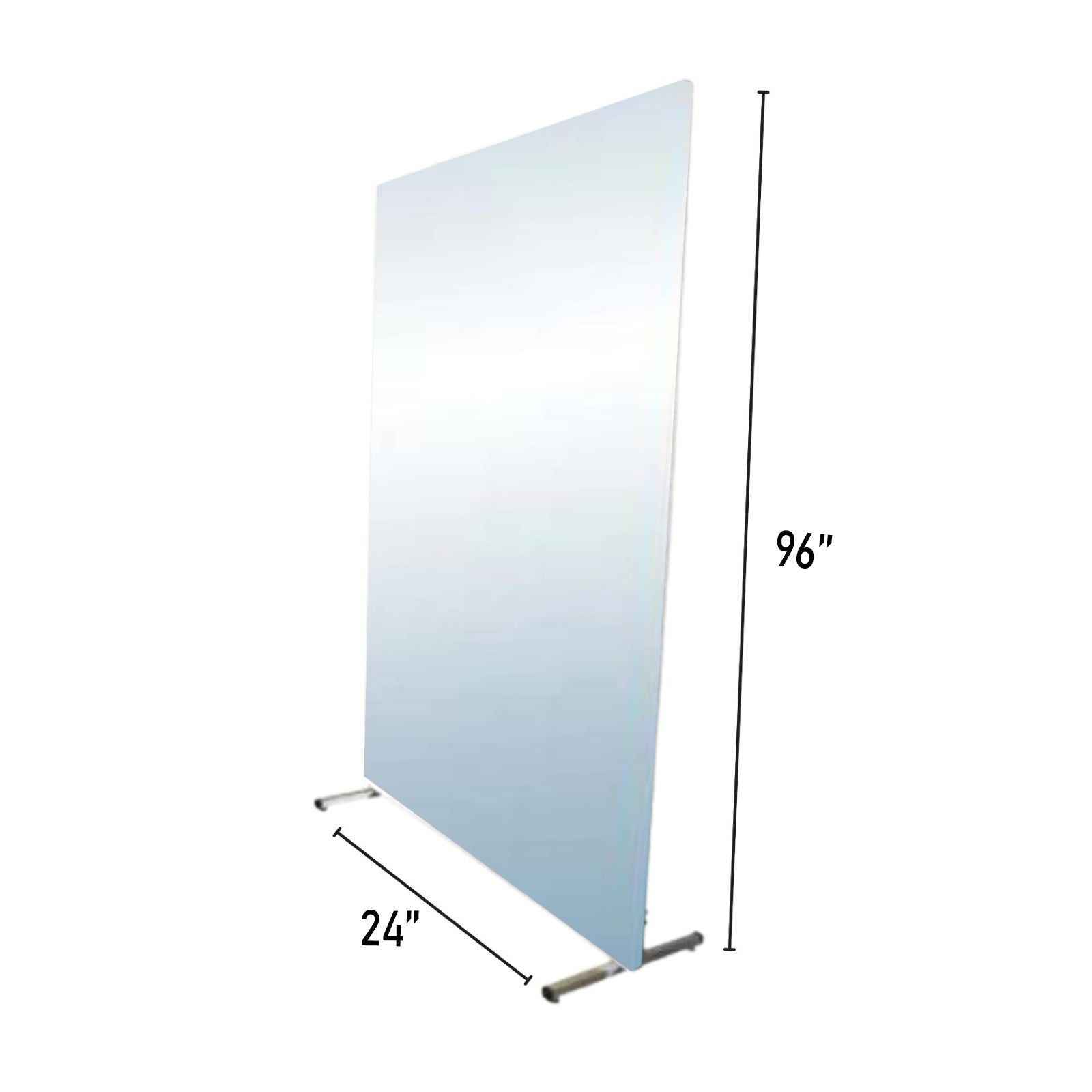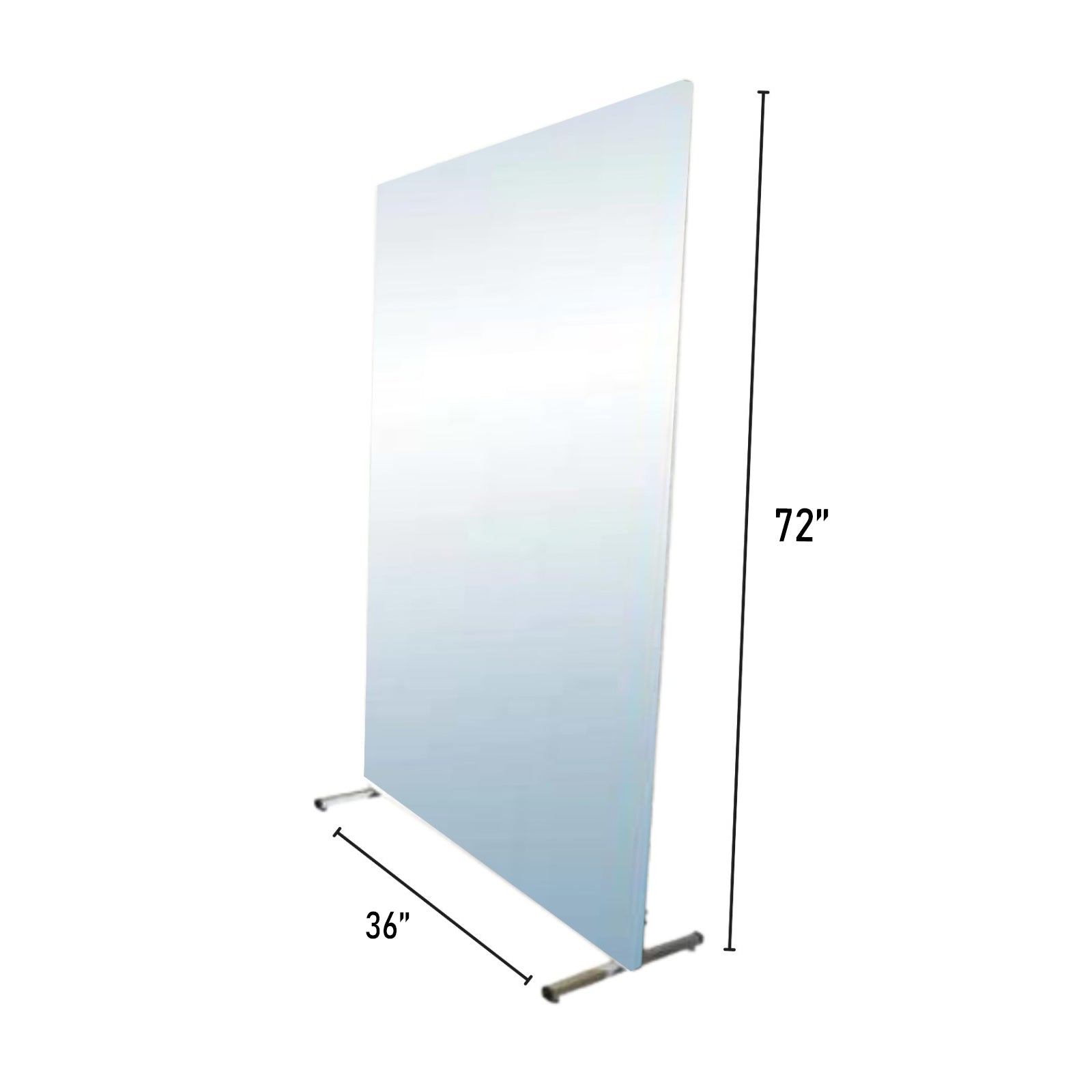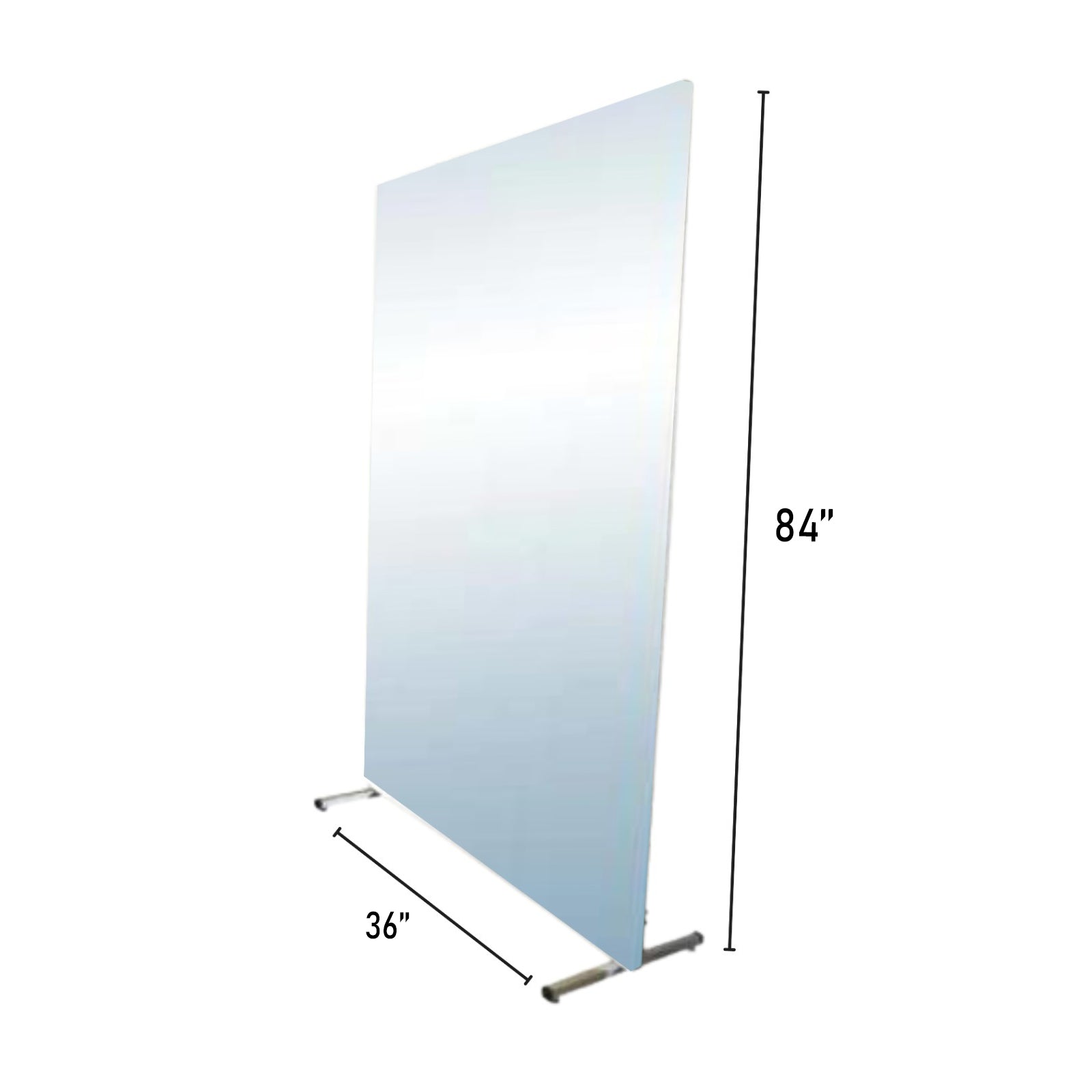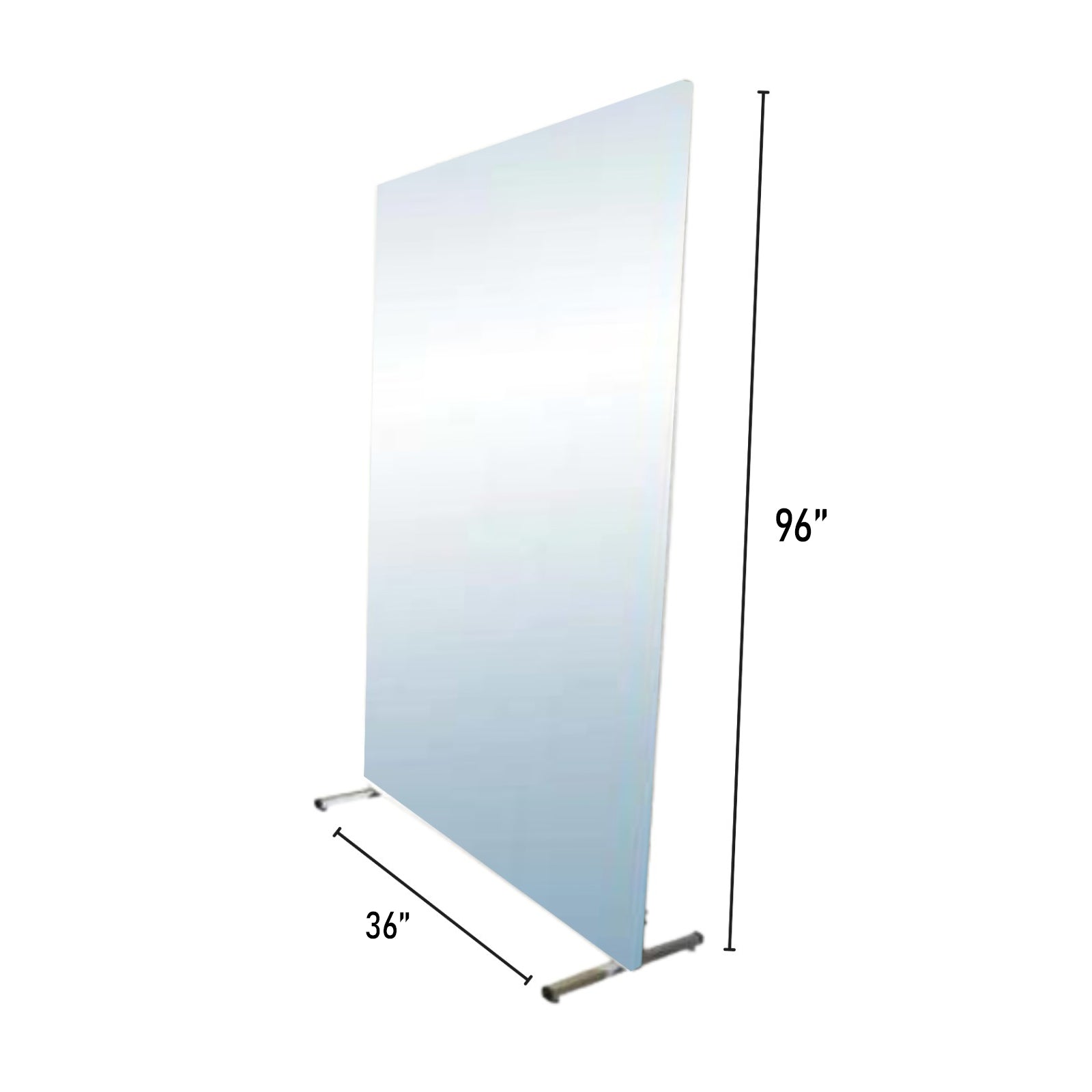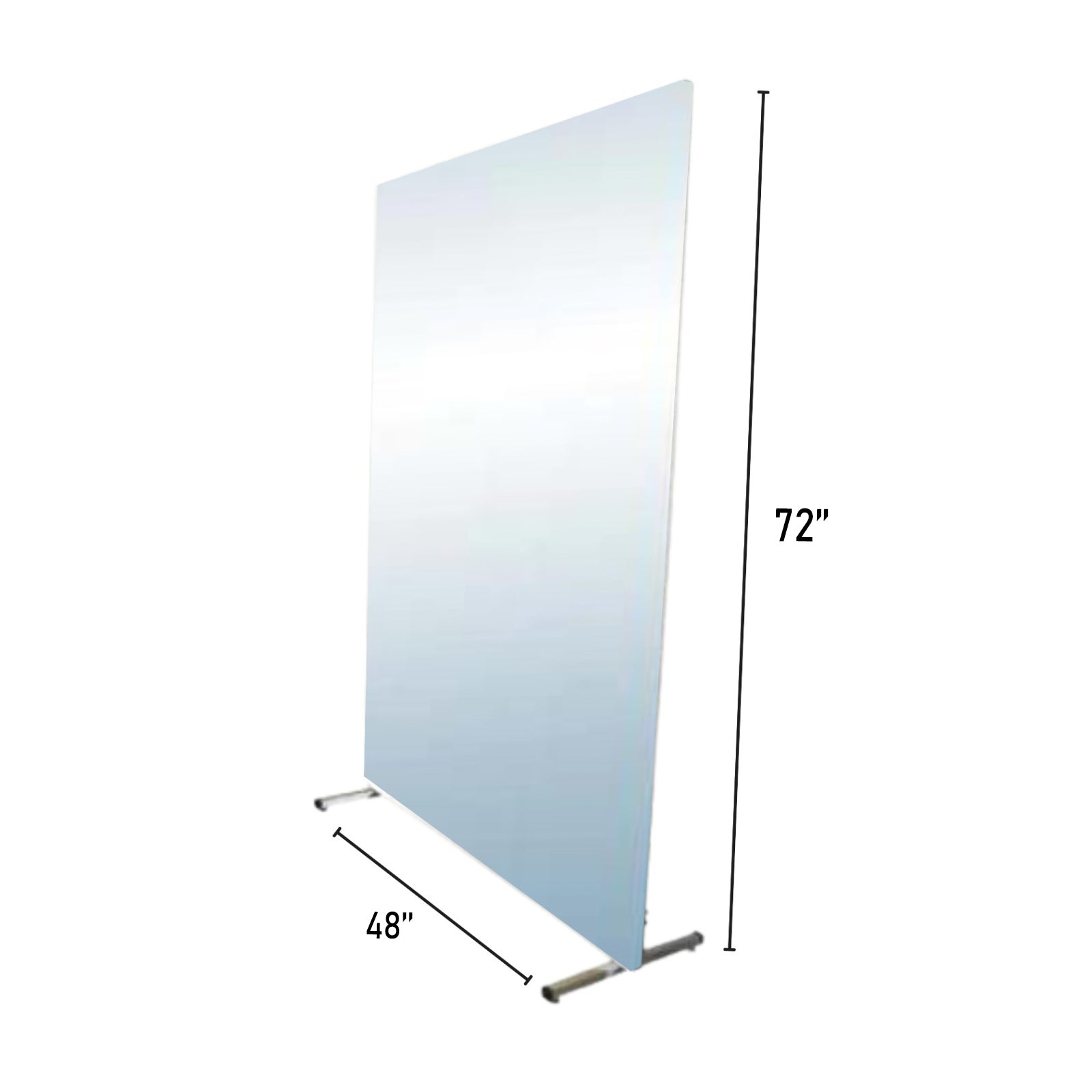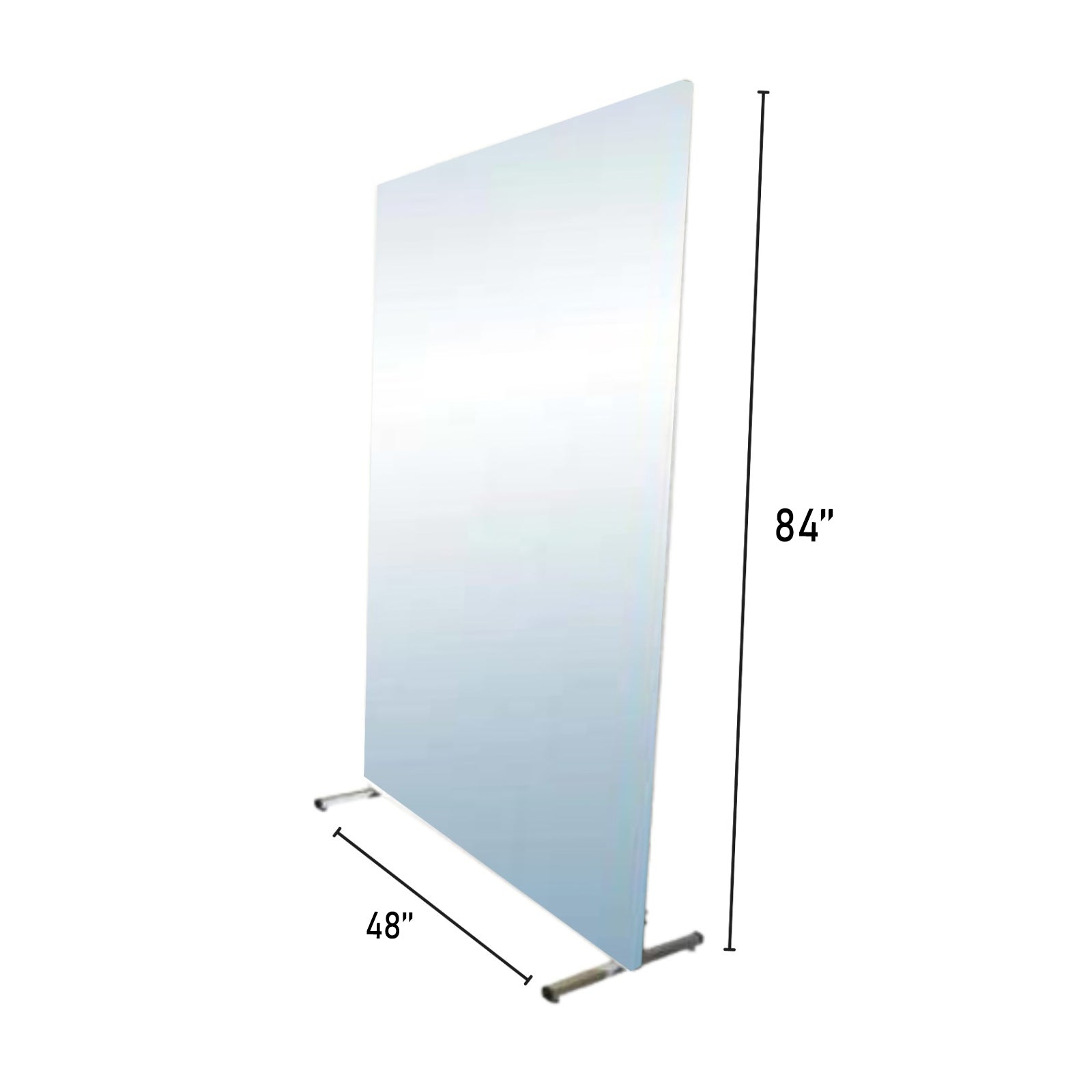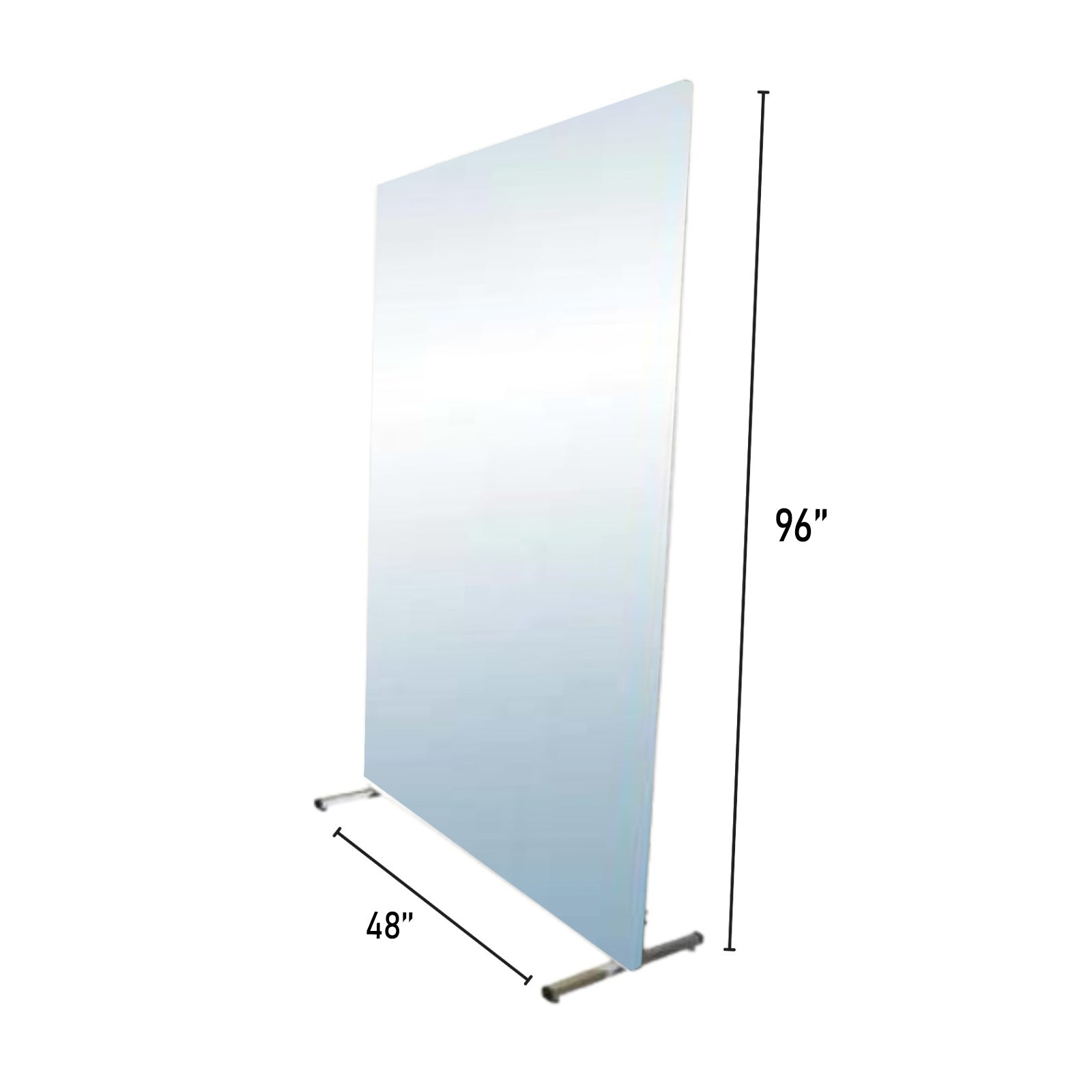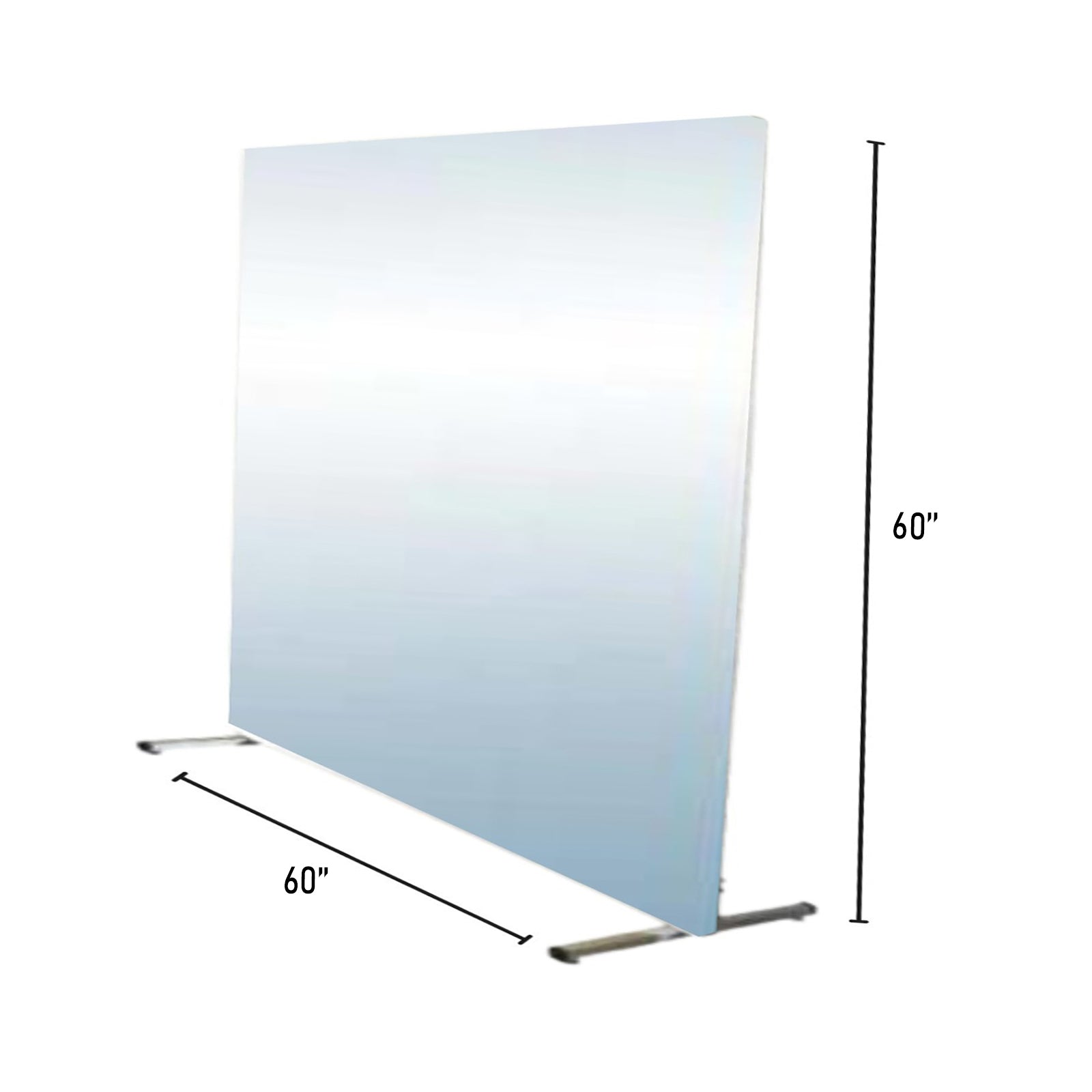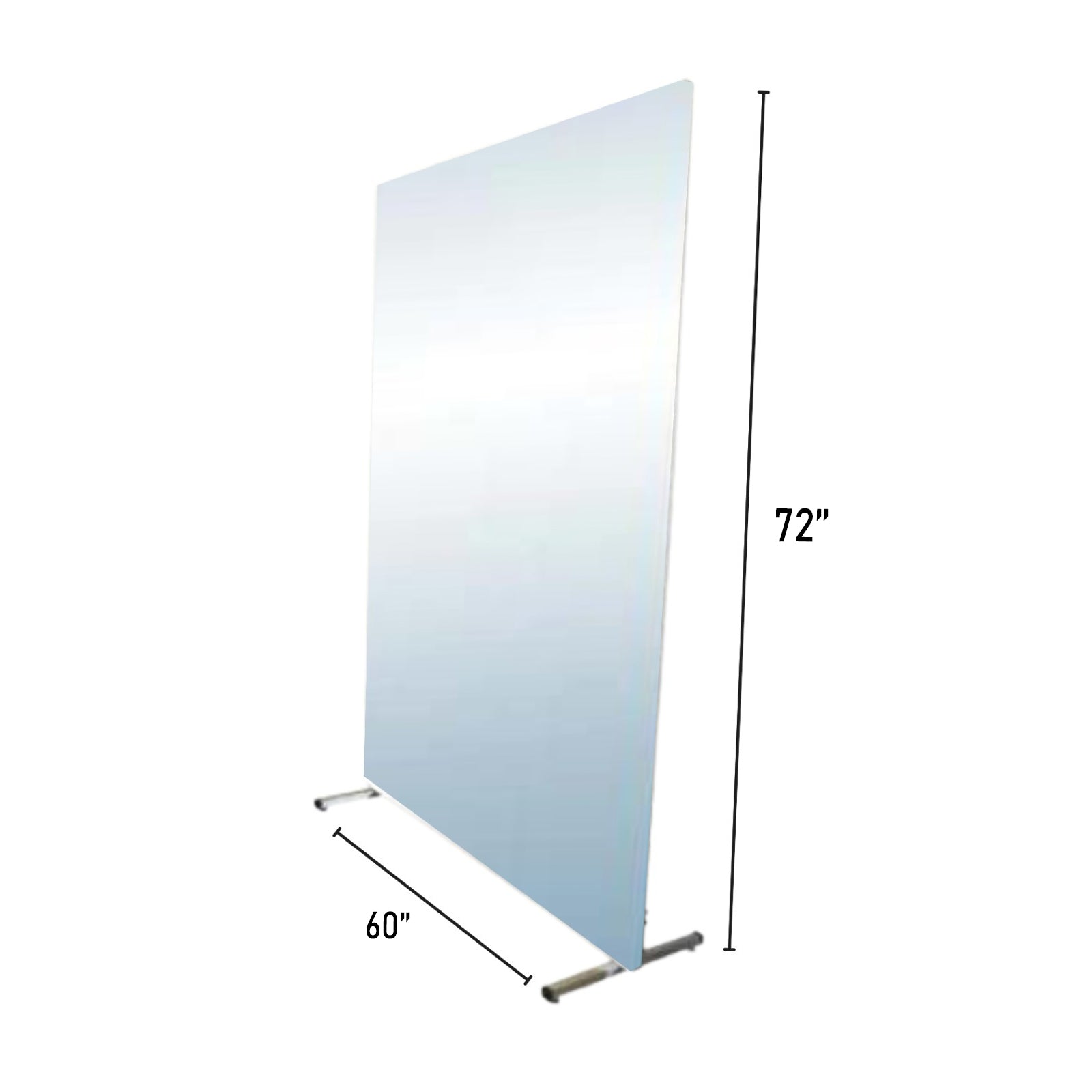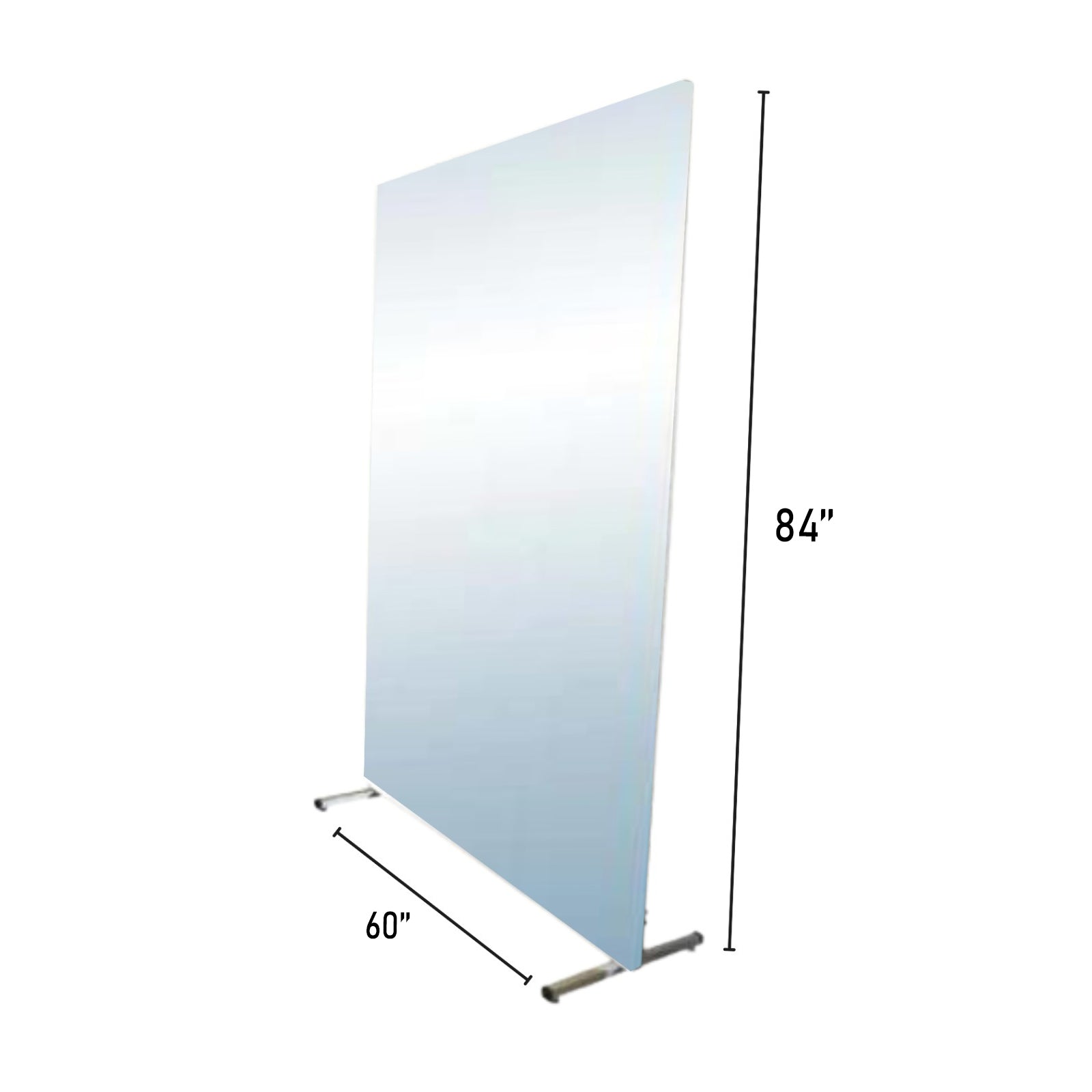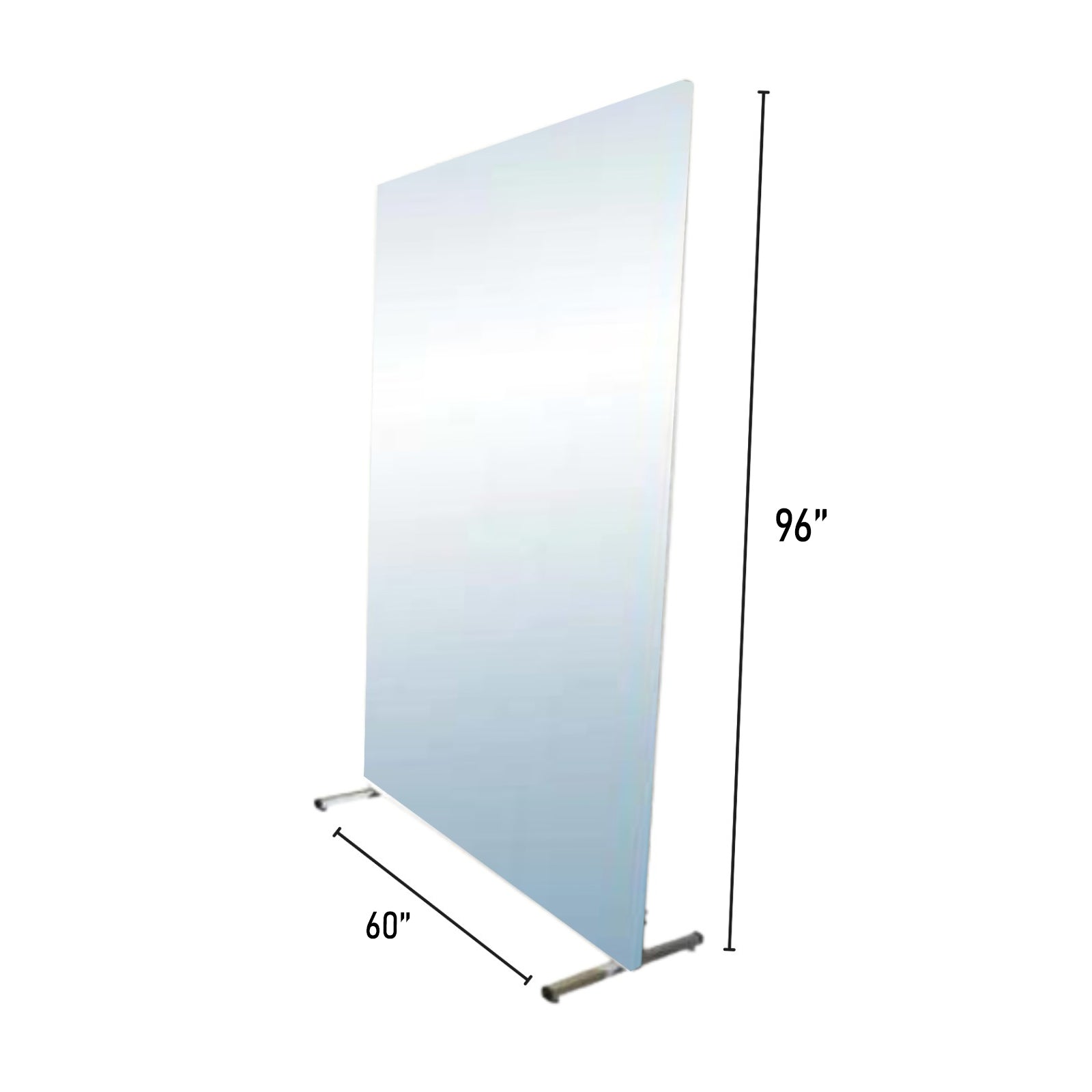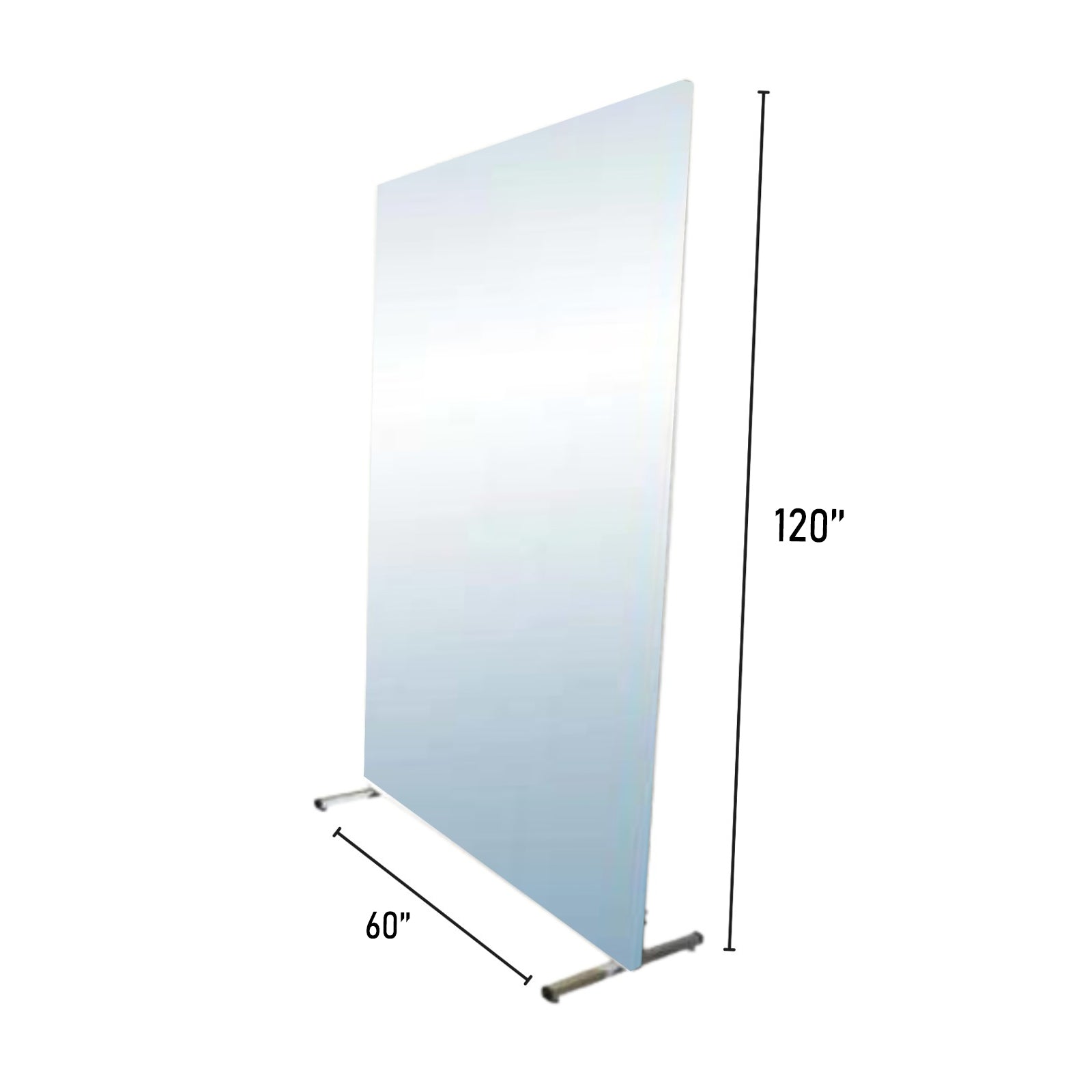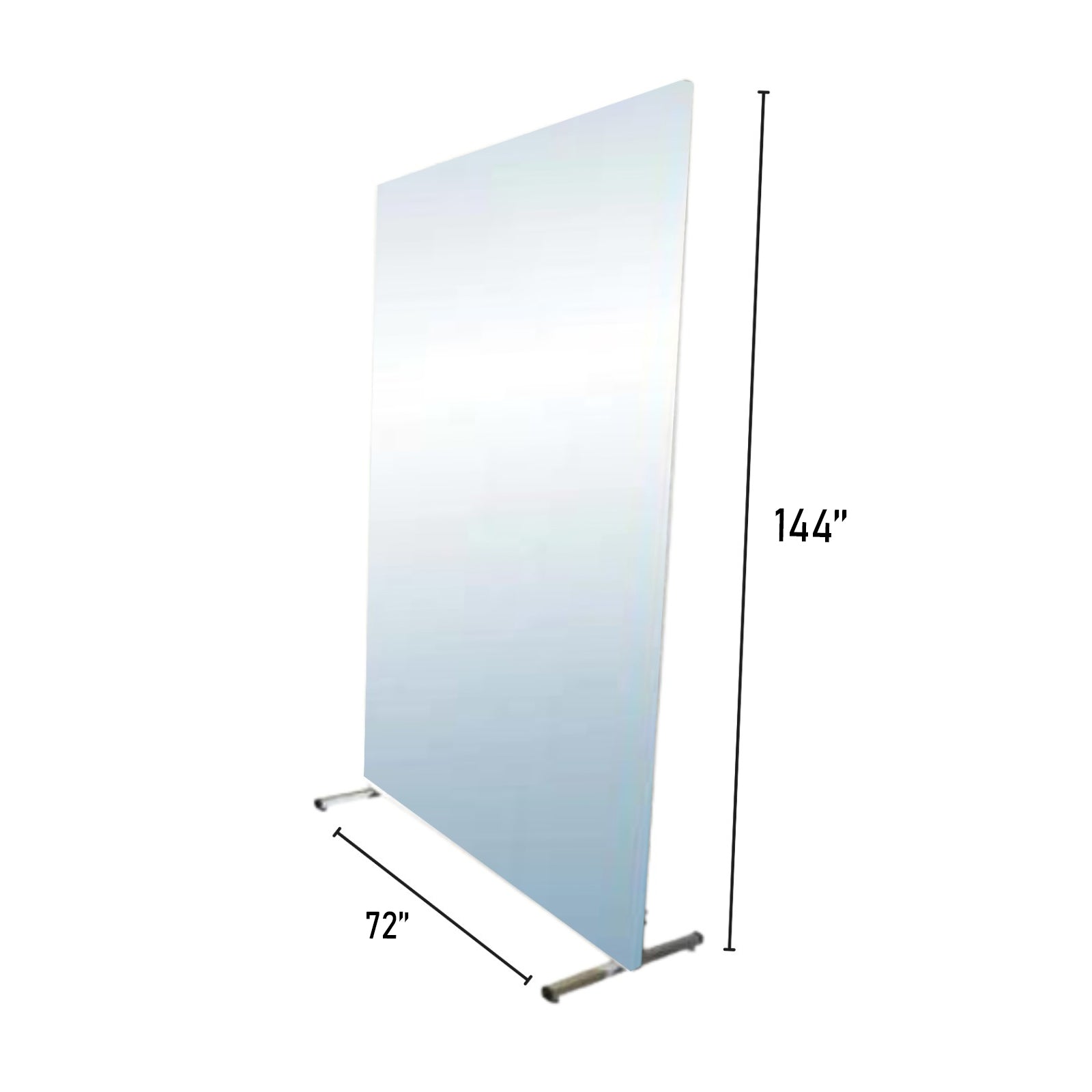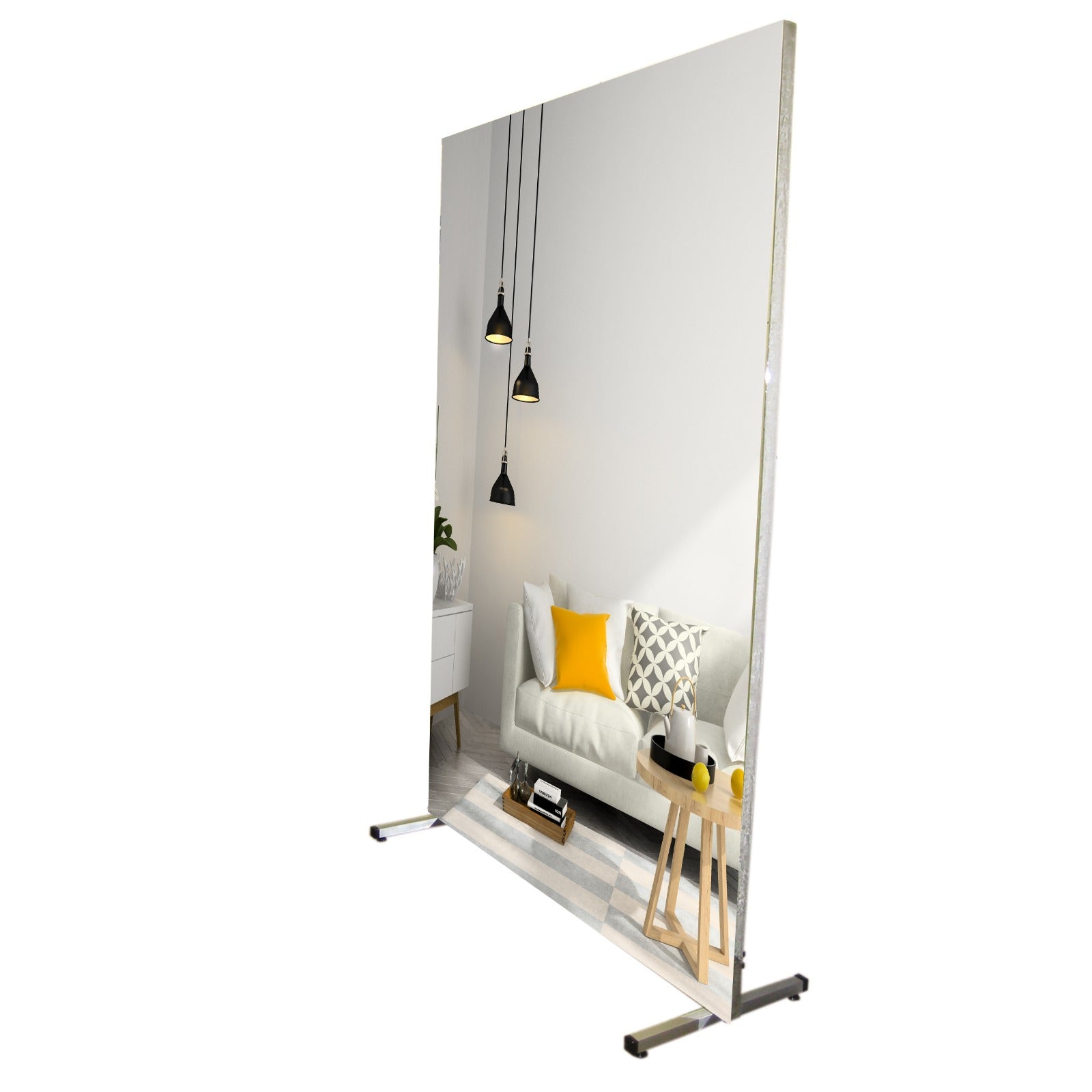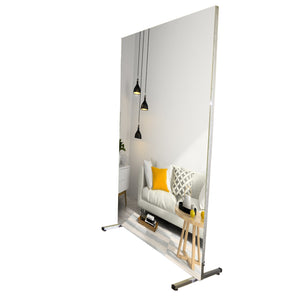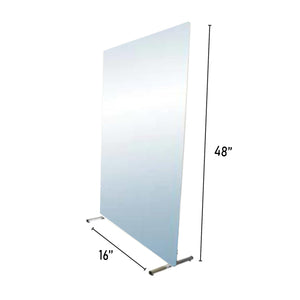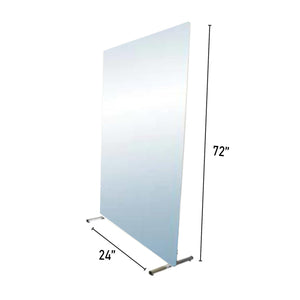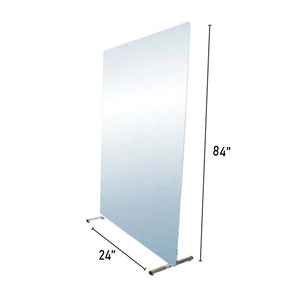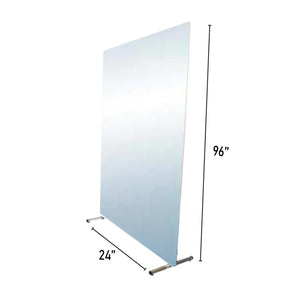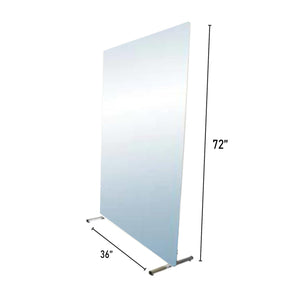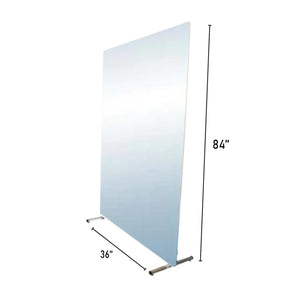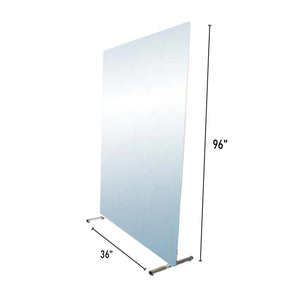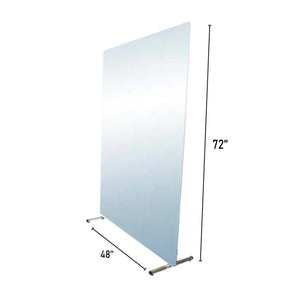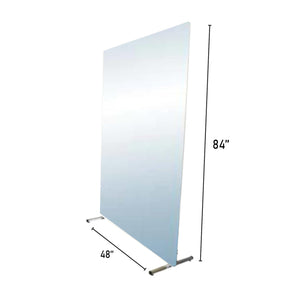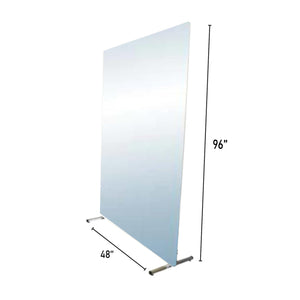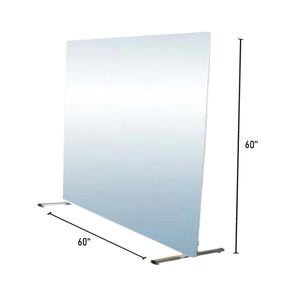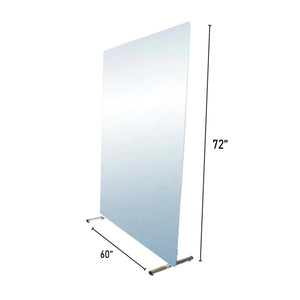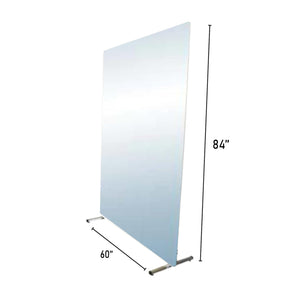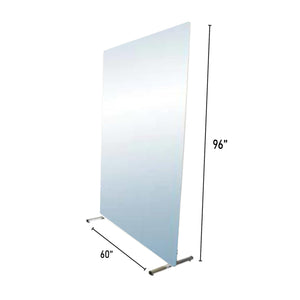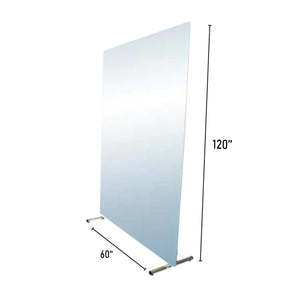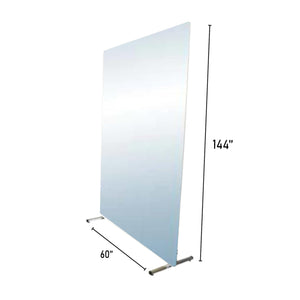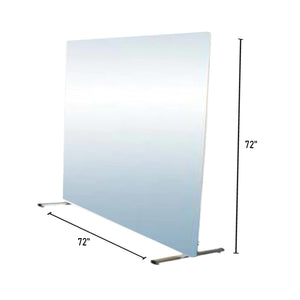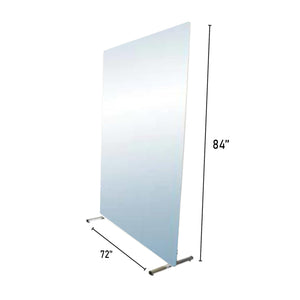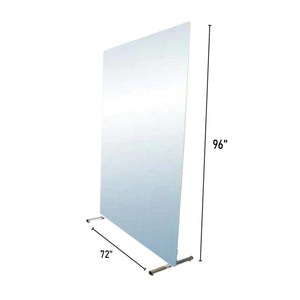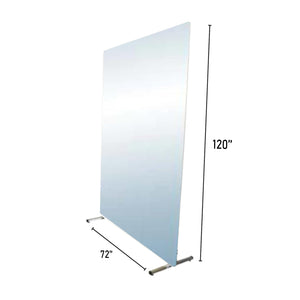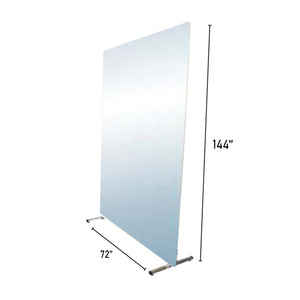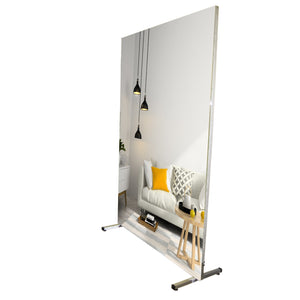 Glassless Mirror Stationary Floor Stand Vertical
MirrorLite
$280.63
Our mirrors are 85% lighter than same-size glass mirrors
Optically clear and completely shatterproof
Easy installment on walls","ceilings","stationary floor stands
| | |
| --- | --- |
| Base type | Stationary Floor Stand |
| Country of origin | USA |
| Direction | Vertical |
| Height | 48.0 |
| Manufacturer | MirrorLite |
| Packaging | 1/Each |
| Size dimensions | 16\" W x 48\" H - Thickness - 3/4 |
| Thickness | 3/4 |
| Part number | 16X48WMSFS |
| Width | 16 |
| Base type | Stationary Floor Stand |
| Country of origin | USA |
| Direction | Vertical |
| Height | 72 |
| Manufacturer | MirrorLite |
| Packaging | 1/Each |
| Size dimensions | 24\" W x 72\" H - Thickness - 1-1/4 |
| Thickness | 1-1/4 |
| Part number | 2X6WMSFS |
| Width | 24 |
| Base type | Stationary Floor Stand |
| Country of origin | USA |
| Direction | Vertical |
| Height | 84 |
| Manufacturer | MirrorLite |
| Packaging | 1/Each |
| Size dimensions | 24\" W x 84\" H - Thickness - 1-1/4 |
| Thickness | 1-1/4 |
| Part number | 2X7WMSFS |
| Width | 24 |
| Base type | Stationary Floor Stand |
| Country of origin | USA |
| Direction | Vertical |
| Height | 96 |
| Manufacturer | MirrorLite |
| Packaging | 1/Each |
| Size dimensions | 24\" W x 96\" H - Thickness - 1-1/4 |
| Thickness | 1-1/4 |
| Part number | 2X8WMSFS |
| Width | 24 |
| Base type | Stationary Floor Stand |
| Country of origin | USA |
| Direction | Vertical |
| Height | 72 |
| Manufacturer | MirrorLite |
| Packaging | 1/Each |
| Size dimensions | 36\" W x 72\" H - Thickness - 1-1/4 |
| Thickness | 1-1/4 |
| Part number | 3X6WMSFS |
| Width | 36 |
| Base type | Stationary Floor Stand |
| Country of origin | USA |
| Direction | Vertical |
| Height | 84 |
| Manufacturer | MirrorLite |
| Packaging | 1/Each |
| Size dimensions | 36\" W x 84\" H - Thickness - 1-1/4 |
| Thickness | 1-1/4 |
| Part number | 3X7WMSFS |
| Width | 36 |
| Base type | Stationary Floor Stand |
| Country of origin | USA |
| Direction | Vertical |
| Height | 96 |
| Manufacturer | MirrorLite |
| Packaging | 1/Each |
| Size dimensions | 36\" W x 96\" H - Thickness - 1-1/4 |
| Thickness | 1-1/4 |
| Part number | 3X8WMSFS |
| Width | 48 |
| Base type | Stationary Floor Stand |
| Country of origin | USA |
| Direction | Vertical |
| Height | 72 |
| Manufacturer | MirrorLite |
| Packaging | 1/Each |
| Size dimensions | 48\" W x 72\" H - Thickness - 1-1/4 |
| Thickness | 1-1/4 |
| Part number | 4X6WMSFS |
| Width | 48 |
| Base type | Stationary Floor Stand |
| Country of origin | USA |
| Direction | Vertical |
| Height | 84 |
| Manufacturer | MirrorLite |
| Packaging | 1/Each |
| Size dimensions | 48\" W x 84\" H - Thickness - 1-1/4 |
| Thickness | 1-1/4 |
| Part number | 4X7WMSFS |
| Width | 48 |
| Base type | Stationary Floor Stand |
| Country of origin | USA |
| Direction | Vertical |
| Height | 96 |
| Manufacturer | MirrorLite |
| Packaging | 1/Each |
| Size dimensions | 48\" W x 96\" H - Thickness - 1-1/4 |
| Thickness | 1-1/4 |
| Part number | 4X8WMSFS |
| Width | 48 |
| Base type | Stationary Floor Stand |
| Country of origin | USA |
| Direction | Vertical |
| Height | 60 |
| Manufacturer | MirrorLite |
| Packaging | 1/Each |
| Size dimensions | 60\" W x 60\" H - Thickness - 1-1/4 |
| Thickness | 1-1/4 |
| Part number | 5X5WMSFS |
| Width | 60 |
| Base type | Stationary Floor Stand |
| Country of origin | USA |
| Direction | Vertical |
| Height | 72 |
| Manufacturer | MirrorLite |
| Packaging | 1/Each |
| Size dimensions | 60\" W x 72\" H - Thickness - 1-1/4 |
| Thickness | 1-1/4 |
| Part number | 5X6WMSFS |
| Width | 60 |
| Base type | Stationary Floor Stand |
| Country of origin | USA |
| Direction | Vertical |
| Height | 84 |
| Manufacturer | MirrorLite |
| Packaging | 1/Each |
| Size dimensions | 60\" W x 84\" H - Thickness - 1-1/4 |
| Thickness | 1-1/4 |
| Part number | 5X7WMSFS |
| Width | 60 |
| Base type | Stationary Floor Stand |
| Country of origin | USA |
| Direction | Vertical |
| Height | 96 |
| Manufacturer | MirrorLite |
| Packaging | 1/Each |
| Size dimensions | 60\" W x 96\" H - Thickness - 1-1/4 |
| Thickness | 1-1/4 |
| Part number | 5X8WMSFS |
| Width | 60 |
| Base type | Stationary Floor Stand |
| Country of origin | USA |
| Direction | Vertical |
| Height | 120 |
| Manufacturer | MirrorLite |
| Packaging | 1/Each |
| Size dimensions | 60\" W x 120\"H - Thickness - 1-1/4 |
| Thickness | 1-1/4 |
| Part number | 5X10WMSFS |
| Width | 60 |
| Base type | Stationary Floor Stand |
| Country of origin | USA |
| Direction | Vertical |
| Height | 144 |
| Manufacturer | MirrorLite |
| Packaging | 1/Each |
| Size dimensions | 60\" W x 144\" H - Thickness - 1-1/4 |
| Thickness | 1-1/4 |
| Part number | 5X12WMSFS |
| Width | 60 |
| Base type | Stationary Floor Stand |
| Country of origin | USA |
| Direction | Vertical |
| Height | 72 |
| Manufacturer | MirrorLite |
| Packaging | 1/Each |
| Size dimensions | 72\" W x 72\" H - Thickness - 1-1/4 |
| Thickness | 1-1/4 |
| Part number | 6X6WMSFS |
| Width | 72 |
| Base type | Stationary Floor Stand |
| Country of origin | USA |
| Direction | Vertical |
| Height | 84 |
| Manufacturer | MirrorLite |
| Packaging | 1/Each |
| Size dimensions | 72\" W x 84\" H - Thickness - 1-1/4 |
| Thickness | 1-1/4 |
| Part number | 6X7WMSFS |
| Width | 72 |
| Base type | Stationary Floor Stand |
| Country of origin | USA |
| Direction | Vertical |
| Height | 96 |
| Manufacturer | MirrorLite |
| Packaging | 1/Each |
| Size dimensions | 72\" W x 96\" H - Thickness - 1-1/4 |
| Thickness | 1-1/4 |
| Part number | 6X8WMSFS |
| Width | 72 |
| Base type | Stationary Floor Stand |
| Country of origin | USA |
| Direction | Vertical |
| Height | 120 |
| Manufacturer | MirrorLite |
| Packaging | 1/Each |
| Size dimensions | 72\" W x 120\" H - Thickness - 1-1/4 |
| Thickness | 1-1/4 |
| Part number | 6X10WMSFS |
| Width | 72 |
| Base type | Stationary Floor Stand |
| Country of origin | USA |
| Direction | Vertical |
| Height | 144 |
| Manufacturer | MirrorLite |
| Packaging | 1/Each |
| Size dimensions | 72\" W x 144\" H - Thickness - 1-1/4 |
| Thickness | 1-1/4 |
| Part number | 6X12WMSFS |
| Width | 72 |
MirrorLite® Glassless Mirrors reflect an optical-quality image that is bright, clear and free of distortion. Since glassless mirrors are not made with glass, they offer several benefits that traditional glass mirrors cannot provide. On average, our mirrors are 85% lighter than same-size glass mirrors. They are optically clear and completely shatterproof. Their light weight properties make for easy installment on walls, ceilings, stationary floor stands, or rolling floor stands and allows for transporting the mirrors with ease.
Mirrorlite Glassless Mirrors can be used for dance studios, theatrical performances, exhibition displays, architectural design elements, for personal use, and so much more. The possibilities are endless with Mirrorlite Mirrors and offer a lightweight, reflection of quality.  
MirrorLite® Glassless Mirrors consist of a rigid foam core framed by an aluminum extrusion. The frame has a raised lip around the four edges. A highly reflective metalized film is stretched across the raised edges to form the mirror surface producing a high quality, glass free reflection. Customized cutouts are also available to accommodate for wall switches, outlets, ballet bars, etc.
Please specify whether you will be orienting your mirror vertically or horizontally for wall mounted mirrors.