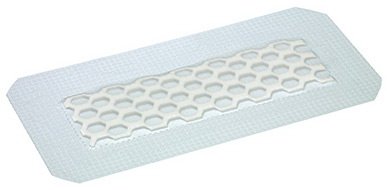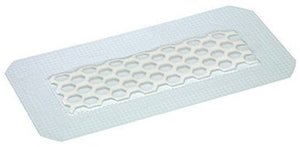 OpSite Post-Op Visible Transparent Film Dressings
Smith & Nephew
$1,133.60
| | |
| --- | --- |
| Color | White |
| Manufacturer | Smith & Nephew |
| Packaging | 120/Case |
| Size dimensions | 8 x 4 Inch |
| Part number | SN-66800136 |
| Shape | Rectangle |
| Color | White |
| Manufacturer | Smith & Nephew |
| Packaging | 20/Box |
| Size dimensions | 8 x 4 Inch |
| Part number | SN-66800136-1 |
| Shape | Rectangle |
Post-Op Visible provides greater permeability to allow easier vapor passage. This dressing combines the features of increased permeability with the high MVTR REACTIC hydrophilic polyurethane film. High MVTR film has a unique molecular structure making it significantly more permeable to water vapor than ordinary films in the presence of moisture. The patented REACTIC film is 3 to 8 times more permeable to water vapor than standard film dressings. The dressing can transform in the presence of moisture allowing excess moisture to evaporate.
Applications
•post-operative wounds
•minor cuts
•abrasions
•lacerations
•puncture sites where a waterproof dressing, which aids in the prevention of bacterial contamination, is required.
Product Features & Benefits
•Waterproof film allows patients to shower with the dressing in place.
•Bacterial barrier helps protect the site against extrinsic contamination, reducing the risk of infection by bacteria.
•Latex-free formula.
•Unique grid pattern adhesive.
•Highly-absorbent pad that rapidly absorbs exudate.
•Allows lateral spread across the pad to maximize absorbency and help reduce the risk of skin maceration.
•Low Adherence to allow minimal trauma on removal.
•Comfortable and non-restrictive for the patient.
•Round corners and thin film design reduces occurrences of lifting or snag, helping the dressing stay in place longer.